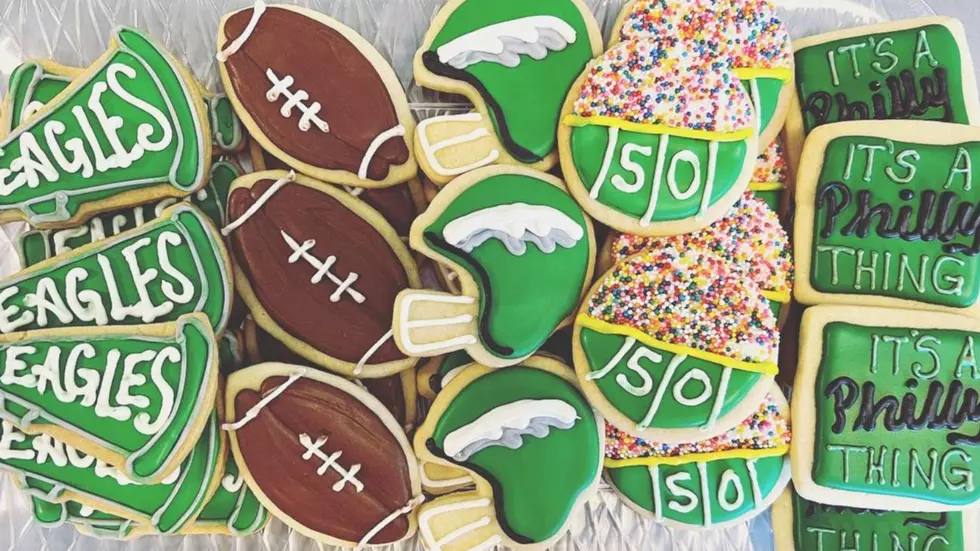 5 NJ bakeries to get Eagles treats for your Super Bowl party
Eagles cookies from Amici Mullica Hill (Instagram)
It's been five years since the Philadelphia Eagles have touched a Super Bowl field and let's be real, it's the only excitement we have in the tri-state area when it comes to football. Unless you're a Giants fan, then I apologize.
I'm a Jets fan so I don't even know what a Super Bowl is…
The great thing about the big game is that you don't have to be a fan of either team, or a football fan at all, to enjoy the parties and time with some friends (until you have to get up for work the next morning, but that's a different conversation).
Everyone takes their Super Bowl party food very seriously.
Between the wings, the dips, and the fun displays you can make with your food, it's a solid cheat day for sure.
But let's talk desserts. It's what we look forward to after the halftime show. And there's real joy in themed desserts to represent your team.
Of course, there are a ton of bakeries in the Garden State, but if you're an Eagles fan, or you're the one in charge of bringing the dessert to the party, you want to head to these places to get your green and white desserts:
And if you're still hungry after the game, head to one of these NJ diners to chow down, but maybe call an Uber first.
NJ Diners that are open 24/7
Each State in America and Their Favorite Type of Cereal...
The post above reflects the thoughts and observations of New Jersey 101.5's Morning Show Producer Kristen. Any opinions expressed are her own.
Questions, corrections, or comments? Send Producer Kristen an email at kristen.accardi@townsquaremedia.com or follow her on Instagram.