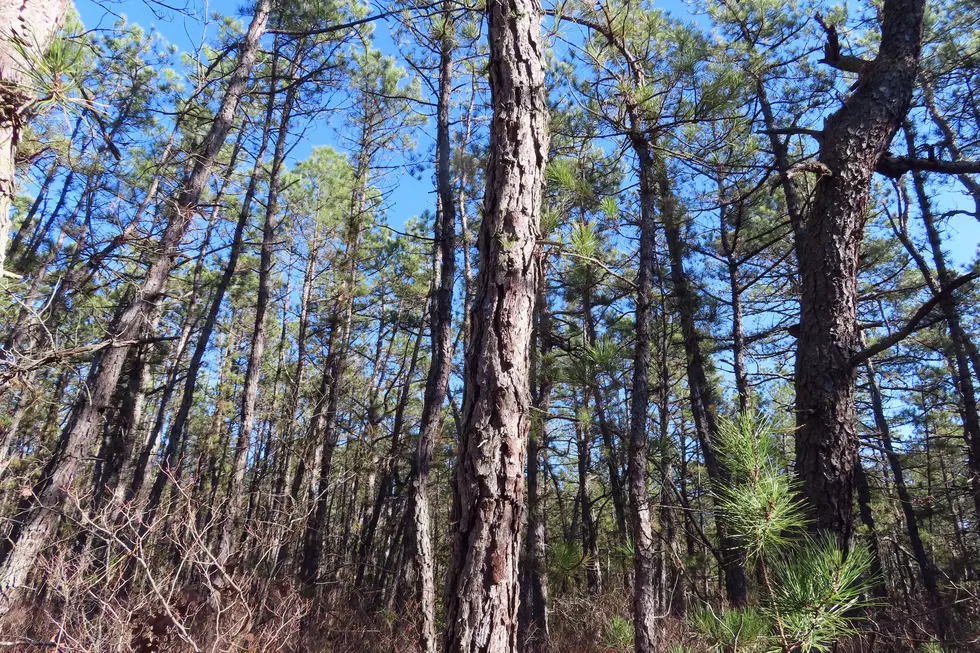 Watch out! 5 insidious pests in NJ that threaten our plants and forests
A few large pine trees are surrounded by smaller ones in a section of Bass River State Forest in Bass River Township, N.J. on Friday, Nov. 18, 2022. (AP Photo/Wayne Parry)
The New Jersey Department of Agriculture has a division devoted specifically to protecting New Jersey's plants from harmful insects and diseases.
The Division of Plant Industry is also charged with providing protection to these resources through detection, control, and eradication programs.
Below are the five insects listed on the division's "Pests and Diseases" page. The prevalence and the threat level vary greatly from insect to insect.
Spotted lanternfly
This hard-to-kill pest is easily the most widely known in the Garden State. Officials aren't even asking residents to report sightings anymore because the Asia-native lanternflies have established populations in all counties.
The spotted lanternfly doesn't harm humans but state agriculture officials say the bug "has the potential to greatly impact agricultural crops and hardwood trees." It feeds on the plant sap of many plants, including grapevines and maples.
Emerald ash borer
EAB has killed tens of millions of trees across the U.S. and Canada since 2002.
Approximately 9% of New Jersey's forested area is susceptible to infestation by EAB.
First discovered in New Jersey in 2014, the pest has been detected in every New Jersey county.
New Jersey has a task force devoted to this pest. "Biocontrol" — releasing other predatory insects to kill another — has been implemented in a number of counties as recently as last year.
Spongy moth (formerly known as gypsy moth)
The spongy moth is considered by New Jersey officials to be the most destructive insect pest to infest New Jersey's forests. A handful of times, the pest was responsible for the defoliation of hundreds of thousands of trees in one year.
Each year, New Jersey officials conduct egg mass surveys to determine which spots need treatment for the spongy moth. Officials recommended 5,100 acres for treatment in 2023, across Burlington, Cape May and Ocean counties.
Pineshoot beetle
The pine shoot beetle was found in some northern New Jersey counties in 2005.
It's considered to be a "serious foreign pest of pines." The beetle attacks new shoots of pine trees, stunting the trees' growth. According to state agriculture officials, the beetles can severely impact the health of trees and possibly kill them when high populations exist.
Asian longhorned beetle
New Jersey claimed victory over this pest years ago but it remains on the state's list of threats.
Quarantine zones were set up and tens of thousands of trees were removed in order to get ahead of the pest.
The Asian longhorned beetle affects ecosystems by infesting and killing many species of hardwood trees. Once it infests a tree, there's no cure.
The U.S. Department of Agriculture is working in 2023 to handle infestations in New York, Massachusetts, Ohio, and South Carolina.
Dino Flammia is a reporter for New Jersey 101.5. You can reach him at dino.flammia@townsquaremedia.com
Click here to contact an editor about feedback or a correction for this story.
LOOK: Here are the states where you are most likely to hit an animal
Hitting an animal while driving is a frightening experience, and this list ranks all 50 states in order of the likelihood of such incidents happening, in addition to providing tips on how to avoid them.
LOOK: Food and Personal Care Shortages We Could See In 2023
Learn about the 13 potential shortages that could impact stores in 2023, from produce and meat to snacks and beverages.