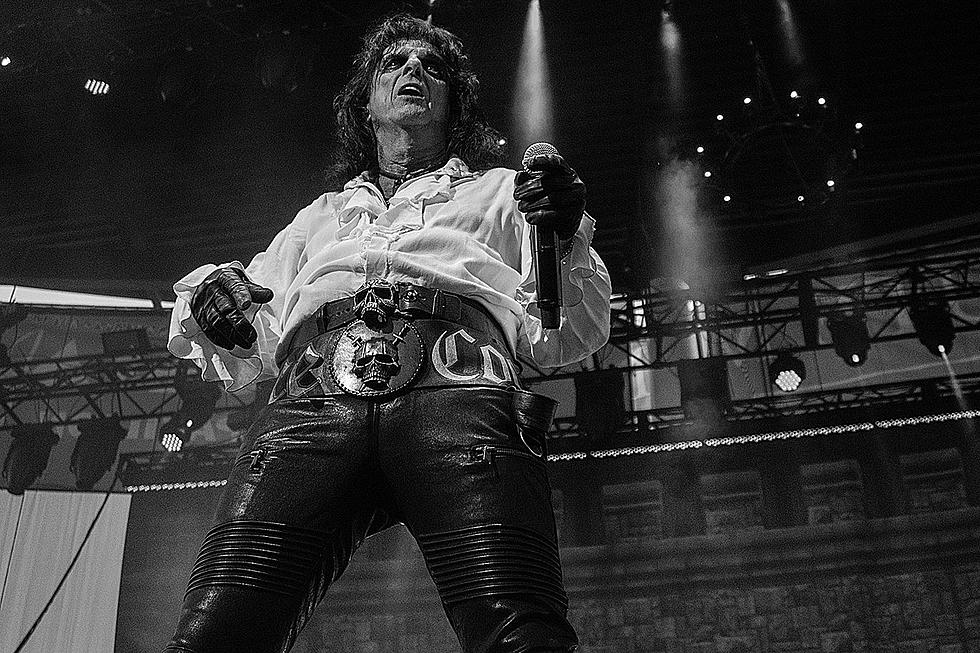 Alice Cooper Talks About Resurrecting Lost Catalog Classics: Exclusive Interview
Eric Haggard, UCR
Alice Cooper will reveal the first part of a Detroit-themed music project he's been working on recently in September.
Breadcrumbs finds the legendary rocker paying tribute to his "garage rock heroes from his hometown Detroit city" with special guests like MC5's Wayne Kramer and Mark Farner of Grand Funk Railroad. The six-song EP teases a future album that should arrive sometime in 2020.
Working with his usual collaborator, Bob Ezrin, Cooper had a specific reason for giving the record a Motor City flavor. "The Detroit sound is Alice Cooper," Cooper told UCR earlier this year. "That's where we wrote Killer, Love It to Death, School's Out and Billion Dollar Babies. I've always looked at Alice Cooper as sort of a Detroit band, really. ... We're a guitar band. We're a guitar rock band. That's what we'll always be. 'Under My Wheels' is probably what an Alice Cooper Detroit band sounds like."
Cooper is currently in a familiar place. When he's not in the studio or on the golf course, chances are pretty good you'll find him onstage. "I didn't expect at 71 to be in Alice Cooper and the Hollywood Vampires," he says now. "You know, there's two bands that are touring bands and both of them are major shows and major albums. So I wasn't expecting that, but I'm happy to be doing it!"
The second Hollywood Vampires album, Rise, was released on June 21; Cooper is thrilled with the reception it's received so far. "We didn't expect the Vampires album to be No. 1 in England," he says. "I mean, it's No. 1 in five or six countries right now. We're really, really happy with that."
The band played a string of dates leading up to the release of Rise. Cooper is now back on the road for his own tour, a lengthy run that finds him doing a major revamp to both his stage show and set list. The shows are bookended by a pair of monster songs: 1991's "Feed My Frankenstein," a longtime fan favorite and concert staple, and "Teenage Frankenstein," a rarity that's making its first stage appearance since 2001.
"We start with Frankenstein and end with Frankenstein, because the nature of the show is like going to the carnival, a really old carnival and being on one of those funhouse rides," Cooper explains. "Alice Cooper's Nightmare Castle rides -- that's what the stage looks like and that's what it feels like up there. Because some of the things that happen are really carny-driven. The creepiest people to me onstage were the carnies. The show just has that feel to it. When you go to it, you'll feel like you're at the carnival."
The completely redesigned stage features a multi-level stone castle adorned with skulls and iron chandeliers. The castle is just one piece of a larger vision Cooper initially had for the show.
"We were going to make it into an Alice Cooper castle thing," he says. But "we've always had this carnival vibe to the Alice Cooper show anyway, so the more I looked at the set, the more I said, 'Let's make this more so it looks like if you were watching a movie and it was one of these old dilapidated carnival rides.' So when the curtain comes down and you see it, you're already in it."
"My Stars," from the School's Out album, makes its first appearance in an Alice Cooper set since 1974, and, it turns out, it's been buried on a shelf for decades for a specific reason. "That wasn't even a song that we did back with the original band because we didn't have a piano player," Cooper notes.
"It was always a song we kind of avoided a little bit, because of the fact that you need that piano in there. Now, I hardly use any tape onstage at all, unless it's for special effects. That's the only thing I use on that. I use the piano track on that, and then the band plays to the piano track, because we still don't have the piano player. We didn't have that option back in the '70s. Now we can do that."
"Teenage Frankenstein," from 1986's Constrictor, and "Roses on White Lace," from 1987's Raise Your Fist and Yell, are also making rare appearances onstage these days.
"We found out in a strange way that every time we do an '80s rock song, that's where this band shines," Cooper says. "They can play all of the old stuff easily, but when it comes to songs like 'Bed of Nails,' 'Poison,' all of the songs from the '80s and '90s, they jump on that stuff and they play it perfectly."
In other recent Cooper news, his name was on the list of artists who may have lost assets in the 2008 fire that reportedly destroyed more than 100,000 master recordings owned by Universal Music Group. Both Constrictor and Raise Your Fist and Yell were released by the company. Cooper is unclear about the status of those masters and feels for his fellow artists.
"If we would have lost anything, Shep [Gordon, Cooper's manager] would have called me, so I don't think we've lost anything," he says. "I totally understand when you get bands like Tom Petty and groups like that, with all of the recording that they did, how many things got lost. I can imagine that's devastating. That's like if the Rock and Roll Hall of Fame caught fire. All of the things in there that are irreplaceable would be lost. So who knows what the damage is on that? I don't think they know what the damage is yet."
Alice Cooper Albums Ranked