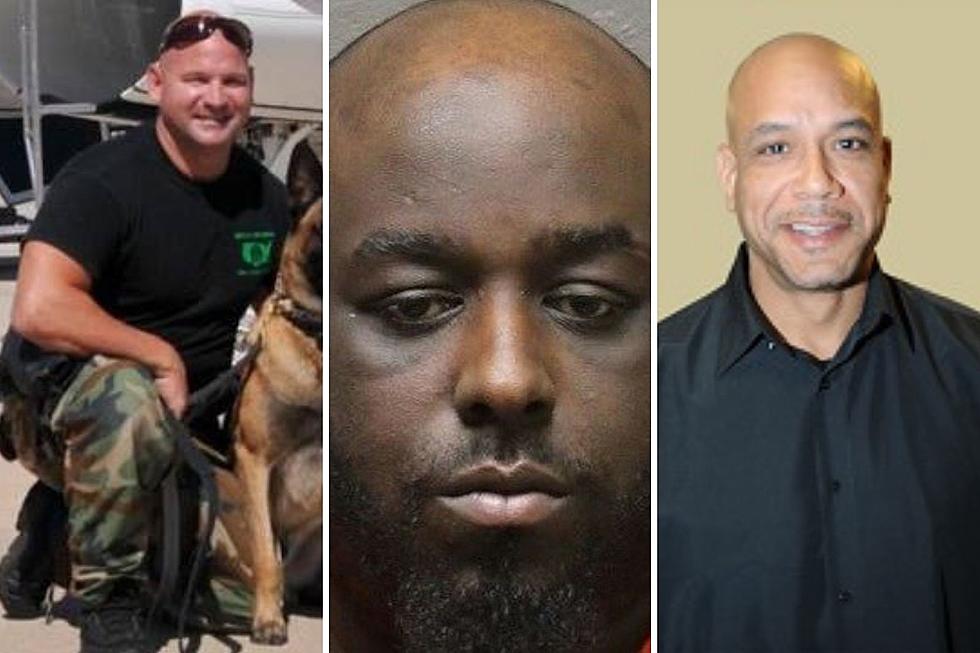 Atlantic City, NJ school district under investigation after child-porn case
John Devlin (via Facebook), Kayan Frazier (Atlantic County Prosecutor's Office), Shay Steele (Atlantic City Board of Education)
A member of the Atlantic City Board of Education has come under criticism for revealing that the board was subpoenaed by a grand jury on behalf of the State Police corruption unit.
Board member John Devlin on Wednesday told Harry Hurley of New Jersey 101.5 sister station WPG that the board learned about the subpoena during executive session, a portion of board meeting that is closed to the public.
The State Police corruption unit is investigating former fulltime elementary school substitute teacher Kayan Frazier, 28, of Somers Point, who was accused of sleeping with a student.
Frazier pleaded guilty in February on federal charges of sexual exploitation of a child after investigators found thousands of images of child pornography on his phones and online accounts, including images of an underage boy who lived with him part-time.
The boy's mother has filed a lawsuit against the district.
According to the criminal complaint, the state Department of Children and Families investigated Frazier in 2017. The school's principal, La'Quetta Small, was Frazier's cousin. Small, also the wife of Atlantic City Mayor Marty Small, is now in charge of the high school.
Somehow, Frazier ended up employed as a child-welfare worker at the same agency that had investigated him.
Board President Shay Steele told the Press of Atlantic City that he would not comment on the specifics of the subpoena but told the Press that the board is not concerned about the subpoena because officials did nothing wrong in the Frazier case.
Grand jury subpoenas are secret and its contents would not be known to the board.
Devlin also told Hurley he is upset that Steele ended a "nationwide search" for a new school superintendent to do an in-house search, suspecting that the board will wind up hiring the mayor's wife.
"This totally violates every ethical code in the business," Devlin told Hurley, adding that he will be submitting a complaint to the state board of ethics.
Previous reporting by Sergio Bichao was used in this report.
Contact reporter Dan Alexander at Dan.Alexander@townsquaremedia.com or via Twitter @DanAlexanderNJ
NJ arrests 31 accused child predators in "Operation 24/7"
A roundup of 31 men have been accused of sexually exploiting children online, state Attorney General Gurbir Grewal announced on July 14 while detailing
"Operation 24/7."
The suspects "possessed and or distributed videos and images of child sexual abuse, including in many cases videos of young children being raped by adults," Grewal said.
Chat apps and gaming platforms remain favorite hunting grounds for child predators and even as the pandemic winds down, many children have continued to spend more time online.
State Police received 39% more tips in just the first 6 months of 2021 than they received in the entire year in 2019. The following are suspects charged in "Operation 24/7."
Most Expensive House For Sale in Mercer County
Located in Mercer County, the six bedroom and 10 bath home is listed for $9.75 million. The home has a movie theater, a bar, three bedrooms with balconies, and a three-bedroom carriage house. Outside, it has over 128 acres of property with a pool, a putting green, two ponds, and basketball and tennis courts.
Gorgeous views: 13 NJ lake house rentals in North Jersey
Lake life — it's a thing in New Jersey. Sussex, Passaic and Morris Counties have their own shores, held near and dear by visitors and locals, alike.
Here's a roundup of a dozen breath-taking lakefront rentals in North Jersey, many along Lake Hopatcong or Upper Greenwood Lake.