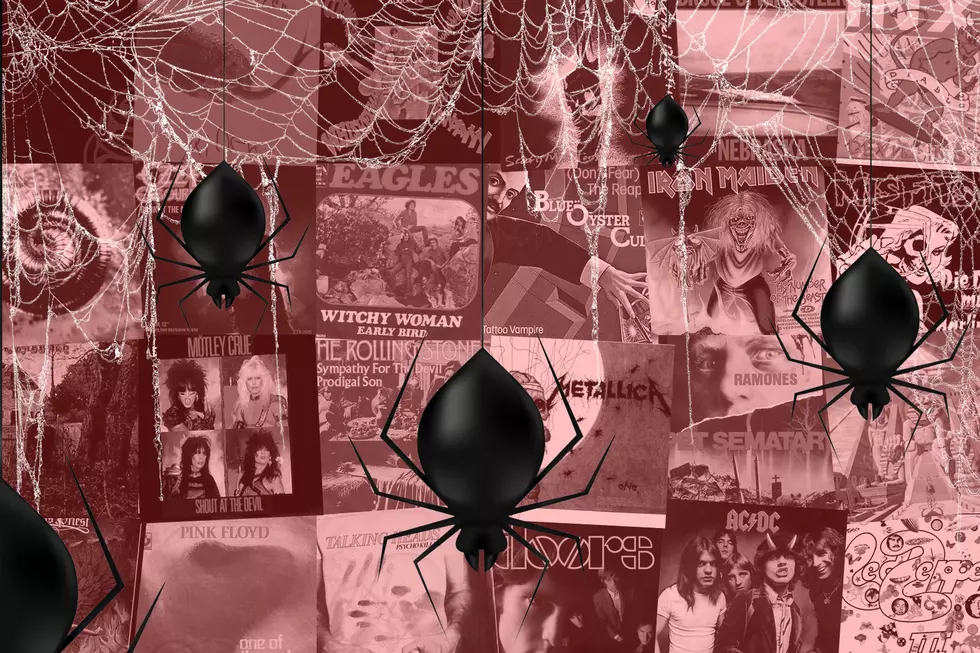 Rock's 30 Creepiest Songs
UCR
There's a chill in the air, the sun sets early and an icy wind blows through bare tree branches. Halloween looms. With spooky season upon us, now is the perfect time to consider some of rock's most terror-inducing tracks — songs with spine-chilling lyrics that tell tall tales of ghosts and goblins, or, creepier still, songs that recount real-life blood and gore. From serial killers to scary monsters, the below list of 30 Creepiest Rock Songs should suit all of your Halloween playlist needs. Forget "Monster Mash," these tracks are not for the faint of heart. Read on, if you dare ...
30. "Rime of the Ancient Mariner," Iron Maiden (from 1984's Powerslave)
Iron Maiden's first (and best) epic derives its lyrics from Samuel Taylor Coleridge's 1798 poem of the same name, a cautionary tale about a sailor who kills an albatross perceived as a good omen and quickly suffers the consequences. Equally majestic and virtuosic, the 14-minute "Rime of the Ancient Mariner" finds Iron Maiden shifting through multiple movements, anchored by Steve Harris and Nicko McBrain's throttling rhythms and Dave Murray and Adrian Smith's stabbing, harmonized riffs and solos. Bruce Dickinson shifts between a full-throated wail and ominous croon, ratcheting up the suspense and dread in the song's eerie midsection. He summed up the eminently creepy song while introducing it on 1985's Live After Death album: "And the moral of this story is, this is what not to do if a bird shits on you." (Bryan Rolli)
29. "Nebraska," Bruce Springsteen (from 1982's Nebraska)
Bruce Springsteen's "Nebraska" starts out innocently enough, as a lonesome-sounding harmonica part opens the song and album of the same name. He then begins describing a girl twirling a baton on her front lawn, from the perspective of 19-year-old Charles Starkweather – a real-life serial killer from Nebraska who murdered 10 people with his 14-year-old girlfriend between December 1957 and January 1958. The couple was eventually caught and convicted; Starkweather was executed the following year in the electric chair. (The case has since been widely studied by criminologists and psychologists seeking to understand more about serial killers and what motivates their actions.) The creepiest part of "Nebraska," however, may not be the gruesome acts themselves, but the lack of remorse the narrator expresses: "I can't say that I'm sorry for the things that we done / At least for a little while, sir, me and her we had us some fun." (Allison Rapp)
28. "Boris the Spider," The Who (from 1966's A Quick One)
Quite possibly one of the quirkiest songs in the Who catalog, "Boris the Spider" fuses the musical feeling of a spaghetti western with the sinister, yet potentially innocent adventures of an everyday arachnid. One of the first songwriting contributions bassist John Entwistle made to the Who grew out of a night at the pub with Rolling Stones bassist Bill Wyman. "Boris the Spider" quickly became a fan favorite in the years that followed. Lyrically, the track details Boris' travels around the room, while pondering whether the creature is similarly frightened or has malicious intent. One of the best parts of "Boris the Spider" is how Entwistle adopts a delightfully ominous tone each time he says the title character's name. Alas, the arachnid would not survive the song, meeting his end with a heavy book as the deadly weapon. (Matt Wardlaw)
27. "Night Prowler," AC/DC (from 1979's Highway to Hell)
The horrific real-world crimes of Richard "Night Stalker" Ramirez attached a very real dread to "Night Prowler" that far outstrips AC/DC's original intent. "The song is not called 'Night Stalker,' it's called 'Night Prowler,'" guitarist Malcolm Young later explained on VH1's Behind the Music. "It's about things you used to do when you were a kid, like sneaking into a girlfriend's room when her parents were asleep." Then the California-based mid-'80s serial killer was revealed to be a big AC/DC fan. He even left a hat with the band's logo behind at the scene of one of his numerous crimes. After that, the media bent over backwards to connect AC/DC to Ramirez. The controversy led to some canceled concerts, and earned them the wrath of the PMRC. Singer Brian Johnson wasn't in the lineup when AC/DC recorded "Night Prowler," but was still repulsed. "It just sickens you, you know," he told VH1. "It sickens you to have anything to do with that kind of thing." (Matthew Wilkening)
26. "Closer," Nine Inch Nails (from 1994's The Downward Spiral)
The famous chorus to "Closer" naturally garners most people's attention, but the song's true creepiness lies deeper within its structure. This classic Nine Inch Nails tune is built upon a pulsating rhythm, coupled with otherworldly studio synth sounds created by Trent Reznor. His vocals deviate in volume, at times sounding like a tormented whisper, at other points exploding with rage. The entire tune has a raw and primitive feeling, which is only enhanced by the haunting – and at times, graphic – music video. (Corey Irwin)
25. "Cold Ethyl," Alice Cooper (from 1975's Welcome to My Nightmare)
How could Alice Cooper shock and anger advice columnist Ann Landers with a song in which he sincerely pledges to love his woman even if he lives until he's 97? Well, it would probably help to know the subject of 1975's "Cold Ethyl" is deceased, right? "For those who don't know what necrophilia is, it's sexual intercourse with someone who is dead," Landers helpfully explained to readers of her syndicated column. Cooper defended "Cold Ethyl" as "satire, done with a sense of humor" following her first public critique of his lyrics. Landers replied: "You can call it funny if you want to, Alice. I call it sick." Still, Cooper refused to apologize: "Kids know I am harmless. It's their parents who think I'm a monster." (Wilkening)
24. "Die, Die My Darling," Misfits (1984 single)
Like a lightning bolt jolting Frankenstein's monster to life, the Misfits' "Die, Die My Darling" strikes with unexplainable intensity. Inspired by the 1965 British horror film, the frantic punk-rock tune brims with energy and intensity. Frontman Glenn Danzig screams lines like "Die, die, die my darling, just shut your pretty mouth. I'll be seeing you again, I'll be seeing you in Hell" over a churning back beat and a blitzkrieg of guitars. It's intense, chaotic and powerful – everything you'd expect from the Misfits. (Irwin)
23. "Dead Babies," Alice Cooper (from 1971's Killer)
Sometimes the scariest thing can be facing harsh truths. Alice Cooper did exactly that, holding a mirror up to society, specifically absentee parents, with the 1971 track "Dead Babies." The tune tells the story of Little Betty, a child who overdoses and dies because her parents are too engrossed in their own devious lives to care for their daughter. Such subject matter was very controversial, with some sections of the public using "Dead Babies" as yet another reason why Alice Cooper needed to be banned. Of course, the group didn't make things better when they performed the song in concert, as their namesake frontman tore apart baby tolls and flung their pieces into the crowd. (Irwin)
22. "One of These Days," Pink Floyd (from 1971's Meddle)
There is nothing comforting about Pink Floyd's "One of These Days," which begins with a stretch of total silence that slowly gives way to howling wind and a pulsating bass line. The bass riff was created using quarter notes played through a delay unit, which resulted in an eerie echoing pattern. "One of These Days" features not one but two bass-guitar parts, with the second bass sounding a bit duller because Pink Floyd did not have access to a set of better strings for the spare bass. Only one, muddy lyric can be heard in the song, recorded using ring modulation and slowed down to a spine-chilling speed. It's a rare vocal performance by drummer Nick Mason: "One of these days, I'm going to cut you into little pieces." (Rapp)
21. "Feed My Frankenstein," Alice Cooper (1992 single)
"Feed My Frankenstein" presents a kitschier, family-friendlier version of Alice Cooper than the gallows-humor shock-rocker of the '70s, but it's still an enormously catchy pop-metal anthem and worthy successor to the 1989 comeback single "Poison." Originally written by British rockers Zodiac Mindwarp and the Love Reaction, "Frankenstein" features several so-bad-they're-good one-liners ("I'm a hungry man, but I don't want pizza") and a slew of A-list guest musicians, including Motley Crue bassist Nikki Sixx and guitar heroes Steve Vai and Joe Satriani. "Feed My Frankenstein" features in Cooper's gut-busting Wayne's World cameo and remains a focal point of his live shows, as he unleashes a massive monster during the instrumental break. (Rolli)
20. "The Ripper," Judas Priest (from 1976's Sad Wings of Destiny)
After their 1974 debut Rocka Rolla landed with a thud, Judas Priest came into their own on 1976's Sad Wings of Destiny. The LP abounds with Glenn Tipton and K.K. Downing's diamond-hard riffs and harmonized leads, and Rob Halford commands listeners' awe with his glass-shattering banshee wail. All these elements are on display on Sad Wings highlight "The Ripper," a cautionary tale about turning one's back on infamous London serial killer Jack the Ripper. Sad Wings' dynamic songwriting and epic storytelling established Judas Priest as one of the foremost heavy metal bands of the era, and "The Ripper" even inspired the nickname of Halford's '90s replacement Tim "Ripper" Owens. (Rolli)
19. "One," Metallica (from 1988's ...And Justice for All)
The idea for "One" arose out of a thought that James Hetfield had about someone who exists in a state of living consciousness – but with no means of communication. He expanded on that concept after band manager Cliff Burnstein noted that Dalton Trumbo's Johnny Got His Gun had a structure similar to their developing story. They incorporated footage from the book's movie adaptation into the cinematic video for "One," Metallica's first in that medium. The dark tone and length of the song seemed prohibitive to getting any sort of airplay on radio or MTV. But "One" broke a lot of ground over its 7:26 runtime. (The video was closer to eight minutes.) In some ways, the intensity of this storyline set the stage quite well for the later arrival of "Enter Sandman." (Wardlaw)
18. "Gallows Pole," Led Zeppelin (from 1970's Led Zeppelin III)
The grim history of "Gallow's Pole" can be traced back to the late 19th century. A number of versions of the traditional folk song, often referred to as "The Maid Freed From the Gallows," have appeared in various forms. One of the earliest American recordings arrived in 1939 from Lead Belly, a noted blues influence for Led Zeppelin. Lead Belly's version was released under the title "The Gallis Pole," but the core story has always remained the same: an individual spends his final moments futilely pleading for mercy from the hangman: "What did you bring me my dear friends to keep me from the gallows pole?" In Led Zeppelin's version, the sense of urgency deepens as the song's tempo gradually speeds up. In the end, the hangman simply goes about his business. "Now I laugh and pull so hard, and see you swinging on the gallows pole." (Rapp)
17. "Devil Inside," INXS (from 1987's Kick)
For centuries, art has been inspired by the internal concept of good vs evil – a battle that's often been imagined as a devil on one shoulder with an angel on the other. It's that dichotomy that frontman Michael Hutchence channels on INXS' 1988 hit "Devil Inside." "I was on a God and the Devil phase there," Hutchence explained in Classic Albums. "I suppose it's to do with the chaos of everything, you know? And we can put it into religious terms, I suppose. The Devil is chaotic. So that every time you think something's right, he comes in and changes everything." With its sinister synth line and menacing guitar part, "Devil Inside" certainly feels like a tune Beelzebub could get behind. (Irwin)
16. "Mr. Crowley," Ozzy Osbourne (from 1980's Blizzard of Ozz)
Ozzy Osbourne had been swatting away allegations of Satanism for more than a decade by the time he released Blizzard of Ozz, so it only made sense for him to include an ode to English occultist and ceremonial magician Aleister Crowley on his debut solo LP. The song oozes creepiness thanks to Don Airey's haunting keyboard solo and Osbourne's droning vocals, but the real showstoppers are a pair of dizzying neoclassical guitar solos from Randy Rhoads. The live version of "Mr. Crowley" on 1987's Tribute takes the song to even more grandiose heights with a dirge-like tempo, an extended outro solo and Osbourne's occasional impassioned voice cracks — the sounds of a man coming face-to-face with eternal judgment. (Rolli)
15. "Lullaby," The Cure (from 1989's Disintegration)
Songs like "Lullaby" moved an exec from Elektra, the Cure's U.S. label, to deem Disintegration "'willfully obscure,' which was an actual quote from the letter," frontman Robert Smith later remembered. Had he taken inspiration from past struggles with drugs? From scary bedtime stories his father once told? It was never made clear. Yet this somehow became the Cure's highest-charting single in the U.K. Asked by an earnest fan if he was drunk during a subsequent performance of "Lullaby" on Top of the Pops, Smith had a more definitive response: "Yes!!" (Nick DeRiso)
14. "The End," The Doors (from 1967's The Doors)
"The End," not surprisingly, began as a "goodbye song," according to frontman Jim Morrison. Then it became something that was confusing – even to him. Morrison admitted that once he heard the final version, the song took on a different meaning each time he heard it. "I really don't know what I was trying to say," he told Rolling Stone in 1969. A true rock 'n' roll poet, Morrison relished the improvisational space that a song like "The End" encouraged, and the sprawling storyline offered plenty of room. While it was nearly 12 minutes on record, he and the Door might extend the song to more like 20 minutes in the concert setting. Along the way, "The End" also taught Morrison an important lesson: He learned how closely fans were analyzing his songs, which made him ponder the consequences of his songwriting. (Wardlaw)
13. "The Number of the Beast," Iron Maiden (from 1982's The Number of the Beast)
The title track off Iron Maiden's third album (and first with Bruce Dickinson) gets off to a bone-chilling start with a recitation from the Book of Revelation by actor Barry Clayton. (He got the gig because Vincent Price was too expensive.) Dickinson cues the band with a bloodcurdling wail — born out of frustration with producer Martin Birch forcing him to sing the intro repeatedly for hours — and Iron Maiden is off to the races with sprightly riffs, limber grooves and solos that blaze like hellfire. Religious fanatics protested "The Number of the Beast" en masse, but the song isn't an endorsement of Satanism. Instead, it's a cautionary tale for those who succumb to evil — and that's much more terrifying. (Rolli)
12. "Pet Sematary," Ramones (from 1989's Brain Drain)
So, we know that the Ramones recorded a song for the 1989 film adaptation of Stephen King's Pet Sematary. We know that it somehow became their biggest rock-radio hit, with a video featuring guest stars from Blondie. What's unclear is how any of it came to be. Marky Ramone's memoir detailed a 1982 dinner held in King's basement in Bangor, Maine, where the famous horror writer handed Dee Dee Ramone a copy of the book. Inspired, Dee Dee was then said to have banged out "Pet Sematary" in less than an hour. Except Marky was out of the band in February 1982, and Pet Sematary didn't publish until that November. King confirms that they met once – but at a local restaurant, and the book was never discussed. Still, he clearly understood the power of creative license: "I said to my publisher, 'This story about them coming to my house is total bullshit,'" King later told Rolling Stone. "But I also said, 'Don't change a fucking word.'" (DeRiso)
11. "Shout at the Devil," Motley Crue (from 1983's Shout at the Devil)
Nikki Sixx became enamored with occult practices and Satanic symbolism around the time Motley Crue made their second album, which Sixx originally wanted to call Shout With the Devil. He evidently came a little close to the sun with these occult flirtations, as A&R man Tom Zutaut once witnessed objects flying around Sixx's apartment. "There is no more 'Shout With the Devil,'" Zutaut told Sixx. "If you keep shouting with the devil, you're going to get killed." Thankfully, the album's title track sacrificed none of its vigor with the name change, and its steely riffs, lumbering grooves and frantic, piercing vocals make it both a Motley classic and high-water mark of the '80s glam-metal zeitgeist. (Rolli)
10. "Witchy Woman," Eagles (from 1972's Eagles)
With her raven hair and ruby lips, accessorized by the sparks that fly from her fingertips, you'll hardly want to cross the "Witchy Woman." Don Henley later revealed that this song's inspiration was a mixture of a number of people, mainly author Zelda Fitzgerald, who had wrestled with what was initially perceived as schizophrenia. Henley learned of her ordeal in a biography and penned the track with Bernie Leadon, who had a "strange minor key riff" which had a "haunting quality" that Henley felt was perfect, he said in liner notes from The Very Best of the Eagles. Henley's own condition colored the process: He was feverish and noted that he experienced periods of delirium while writing the bulk of the lyrics. (Wardlaw)
9. "Psycho Killer," Talking Heads (from 1977's Talking Heads:77)
Talking Heads originally recorded this as an even weirder ballad – with cello accompaniment? really? – before tearing "Psycho Killer" down to its skeletal, bass-driven core. Blame for the strings-laden misfire goes in part to original co-producer Tony Bongiovi, who also reportedly encouraged David Byrne to record his vocal while holding a carving knife. Byrne politely declined and Talking Heads continued the track's long gestation, which actually dated back to their pre-Jerry Harrison band, the Artistics. The wait was worth it. "Psycho Killer" arrived in the wake of the so-called Son of Sam murders, giving voice to a terrifying period in which David Berkowitz ultimately confessed to killing eight people in New York City. Meanwhile, Bongiovi later had far more success while helping to launch cousin Jon Bon Jovi's career – sans cello, of course. (DeRiso)
8. "Bark at the Moon," Ozzy Osbourne (from 1983's Bark at the Moon)
The tragic death of guitarist and songwriting partner Randy Rhoads forced Ozzy Osbourne to start from scratch just two years after launching a successful solo career following his unceremonious dismissal from Black Sabbath. New collaborator Jake E. Lee announced himself with authority via the blistering riff of their first single together, the werewolf-themed "Bark at the Moon." In case the song's lyrics weren't creepy enough, Osbourne hired horror movie-effects wizard Rick Baker to transform himself into a monster for the song's Jekyll and Hyde-inspired music video. (Wilkening)
7. "Season of the Witch," Donovan (from 1966's Sunshine Superman)
By Donovan's third album, the Scottish singer-songwriter was deep into moving his folk music into more psychedelic territory in songs like "Celeste" and Sunshine Superman's title track. But he started Side Two with a song that took elements of both genres and formed them into something heavier and with way more menace. "When I look in my window / So many different people to be / They're strange, so strange," Donovan sings as the music around him gets more intense until he's going on about some unforeseen doom headed our way. The title has since been used in several movies, books and TV shows – some scarier than others. (Michael Gallucci)
6. "Careful With That Axe, Eugene," Pink Floyd (from 1969's Ummagumma)
Pink Floyd surfaced from the Syd Barrett era in shambles. His disintegrating personal and professional life had led the group into a similarly misshaped musical place. "The leader figure was falling apart," new member David Gilmour later told Rolling Stone, "and so was the band." The pathway out was paved with dynamic, more thoughtfully structured songs like "Careful With That Axe, Eugene," a 1968 instrumental b-side that would become a live staple during this transitional period. It's not classic Pink Floyd, not yet. In fact, Nick Mason later dismissed the song's formulation as nothing more than "quiet, loud, quiet, loud again." Still, without "Careful With That Axe, Eugene," those other triumphs would never have emerged. (DeRiso)
5. "Enter Sandman," Metallica (from 1991's Metallica)
Kids are creepy. Think of the "Freddy's Coming For You" children's rhyme from the Nightmare on Elm Street film series or, frankly, the marketing campaigns for most of horror movies. There's something deeply ominous about a child's perspective imposed on a dark subject matter, and it's this ingredient that Metallica harnesses on their classic hit "Enter Sandman." Frontman James Hetfield was trying to tap into a "mental thing where this kid gets manipulated by what adults say," he told Uncut in 2007. He proceeded to conjure the stuff of nightmares, including "Dreams of war, dreams of liars, dreams of dragons' fire." The creepiness hits its high point roughly 3:25 into the song, when Hetfield and a child-like voice trade verses on a traditional nighttime prayer. (Irwin)
4. "Sympathy for the Devil," The Rolling Stones (from 1968's Beggars Banquet)
The trouble with any accounting of humanity's various atrocities is that terrible things just keep happening. Ask the Rolling Stones. Sung from the point of the view of Satan, "Sympathy for the Devil" takes us through the crucifixion of Jesus Christ, the Crusades, the Russian Revolution and World War II before bringing us to the then-recent assassination of President John F. Kennedy. "I shouted out, 'Who killed Kennedy?'" Mick Jagger initially wrote, before history intervened once more. The Rolling Stones were in the studio, working out this song's hypnotic musical approach, when Kennedy's brother Robert F. Kennedy was also murdered. Jagger had to update the lyric to make the name plural. Later charged with promoting Satanism, a crestfallen Keith Richards could only reply: "Everybody's Lucifer." (DeRiso)
3. "Scary Monsters (And Super Creeps)," David Bowie (from 1980's Scary Monsters (And Super Creeps))
David Bowie followed his Berlin Trilogy with an album similar in spirit and tone but with more commercial aspirations. Working again with producer Tony Visconti, the pair tell the story of a woman who falls into madness as "Scary Monsters (And Super Creeps)"  progresses: "She had an horror of rooms, she was tired, you can't hide beat," Bowie sings in an exaggerated accent as the music gets more and more abrasive, signaling her fractured psyche. The key to "Scary Monsters (And Super Creeps)," though, is Robert Fripp's slashing guitar, as he tears through the track like an uninvited guest on a dark, stormy night. (Gallucci)
2. "Black Sabbath," Black Sabbath (from 1970's Black Sabbath)
Black Sabbath knew how to make one hell of an entrance. The first song on their first album starts with the sounds of an incoming storm and ominous bells ringing in the distance. For the next six minutes, the band crawls through a thick, muddy mire as Ozzy Osbourne howls words penned by bassist Geezer Butler about a ghostly figure he claimed he saw standing at the foot of his bed after reading a book on the occult. The music, inspired by classical pieces interspersed with "Satanic" harmonic progressions, fits the lyrics' dark mood and still sends shivers up the spine. Heavy metal starts right here. (Gallucci)
1. "(Don't Fear) The Reaper," Blue Oyster Cult (from 1976's Agents of Fortune)
Not even one of the most popular and widely quoted sketches in Saturday Night Live history has dampened the impact of Blue Oyster Cult's 1976 Top 20 hit. (Not much anyway.) "More Cowbell" gave "(Don't Fear) The Reaper" a second life when it premiered in 2000, starring Will Ferrell as a cowbell player brought into a recording studio to add more muscle to the song. (BOC's Buck Dharma, who wrote and sang the song, is a fan.) But "(Don't Fear) The Reaper" was already a classic long before SNL reshaped it, gaining much of its eerie appeal from an extended interlude that was cut from the version released to radio. The song – an invitation to accept death as part of the life cycle – is built on a timeless riff and hook that softens the inevitability that meets us all in the end. And yes, that cowbell is awesome. (Gallucci)
Classic Halloween TV Episodes
Halloween: a time for candy, costumes and binge-watching spooky special editions of your favorite TV shows.
Gallery Credit: Corey Irwin