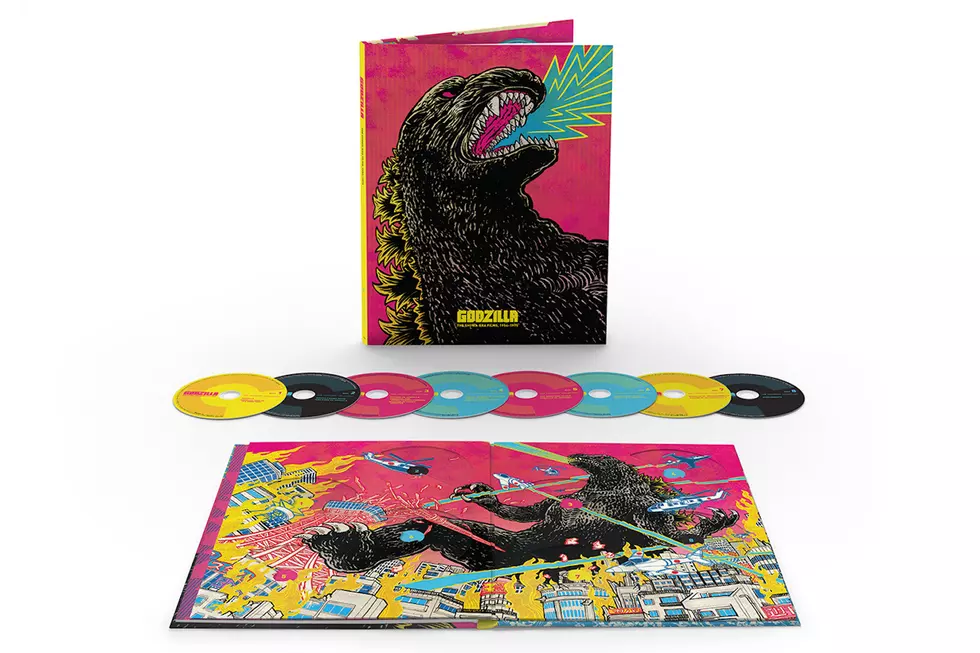 A Massive Godzilla Box Set is the 1,000th Title in the Criterion Collection
Criterion
This October the Criterion Collection reaches the milestone 1,000th DVD and Blu-ray title with Criterion #1000. That massive number only deserved to placed on the spine of a truly great film or collection of films, and today the company announced a box set worthy of that designation: A first-of-its-kind collection of Japanese Godzilla films they call Godzilla: The Showa-Era Films, 1954-1975.
The box includes "all fifteen Godzilla films of Japan's Showa era, in a landmark set showcasing the technical wizardry, fantastical storytelling, and indomitable international appeal that established the most iconic giant monster the cinema has ever seen." It's the first time the movies have all been collected together in a single set. Extras on the release include audio commentaries on Godzilla and its English language version, Godzilla, King of the Monsters, English dub tracks for many of the films, archival interviews, and "programs detailing the creation of Godzilla's special effects and unused effects sequences from Toho releases including Destroy All Monsters." Plus the set comes with a book filled with essays, along with illustrations from artists like Arthur Adams, Becky Cloonan, Geof Darrow, and Bill Sienkiewicz.
The full list of titles included is:
Godzilla
Godzilla Raids Again
King Kong vs. Godzilla
Mothra vs. Godzilla
Ghidorah, the Three-Headed Monster
Invasion of the Astro-Monster
Ebirah, Horror of the Deep
Son of Godzilla
Destroy All Monsters
All Monsters Attack
Godzilla vs. Hedorah
Godzila vs. Gigan
Godzilla vs. Megalon
Godzilla vs. Mechagodzilla
Terror of Mechagodzilla
Here's the teaser for the box set:
Godzilla: The Showa-Era Films, 1954-1975 goes on sale on October 29. You can get more information or pre-order the set at Criterion's website.
Gallery — Best Picture Winners Every Movie Lover Should See: