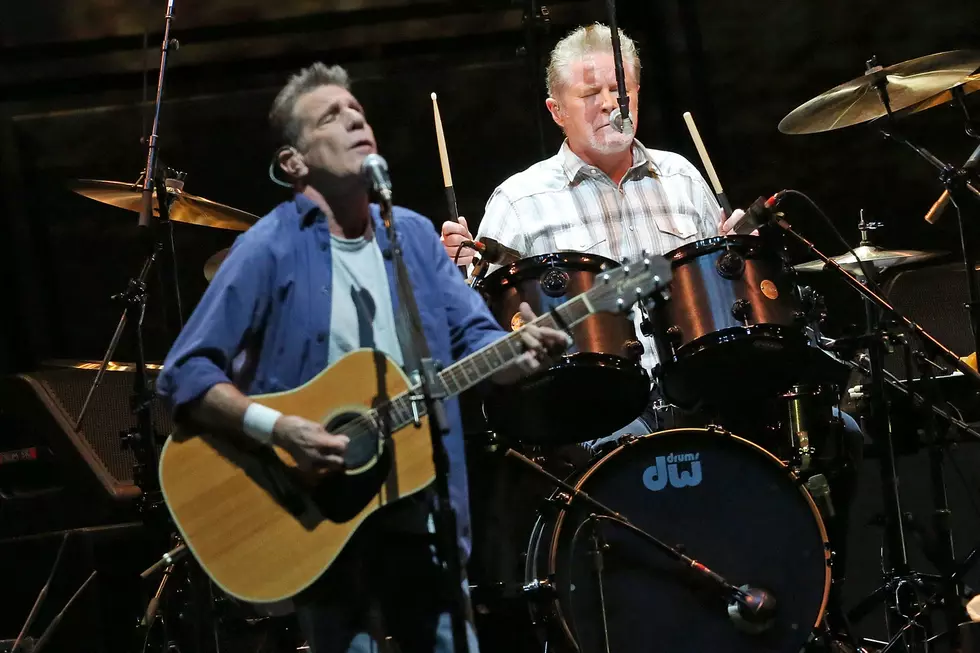 5 Years Ago: Glenn Frey Plays His Last Show With Eagles
Matt Jelonek, Getty Images
Although no one knew it at the time, the two-year History of the Eagles tour served as a farewell trek for co-founder Glenn Frey, who played his last public show with the group on July 29, 2015, in Bossier City, La.
The tour, which shared a name with the band's official documentary, started July 6, 2013, in Louisville, Ky. By delving into their extensive catalog of tunes, the career-spanning performances gave Eagles a chance to reflect upon on their journey from backup band to multi-platinum artists.
After reuniting in the early '90s, the group released only one full-length collection of new material, the 2007 double LP Long Road Out of Eden, so its concerts tended to be fairly focused on the greatest hits, regardless of whatever tour Eagles happened to be on. But the History of the Eagles trek was an even more deliberately retrospective affair, offering fans a lengthy sampling of songs and stories spanning their first 20 years.
To that end, the band adopted a different stage presentation for the tour, starting the sets with Frey and Don Henley on a pair of stools for acoustic versions of the early songs "Saturday Night" and "Train Leaves Here This Morning" — the latter featuring lead vocals by former member Bernie Leadon, who rejoined for the tour. Slowly joined by the remaining Eagles, the co-founders delivered a set that usually included a pair of encores and nearly 30 songs.
The extensive trek ran for more than 140 dates and included stops in 12 countries. Over two sets, two encores and 27 songs, the Eagles celebrated their long legacy in what would be their final public performance with Frey. (You can see the set list for the show below.) Two days later, the group would assemble for a private show at a St. Louis-area high school. The short set was part of a birthday celebration for a private donor, with only 300 fans in attendance.
And then it was over. Frey died on Jan. 18, 2016, following battles with rheumatoid arthritis, ulcerative colitis and pneumonia. "The guy played through pain for several years," Henley recalled of Frey during a 2018 interview. "He hid it very well. I could see it in his fingers. His rheumatoid arthritis made his fingers swollen and bent. It was difficult for him many years. But like an old football player, he would get himself taped up and go out there on the field and play the game, so he hid it very well. But he was very uncomfortable for a long time."
Even though Henley admitted the band was "breaking up from the day the Eagles got together," he never envisioned his final moments onstage with Frey playing out the way they did. "When that tour ended, we just thought we would take a two- or three-month break, then we would probably tour some more the following year. Then the tragedy happened in October. That's really when Glenn fell ill. That's when the pneumonia struck. So, you never know what's going to happen in this life. It's full of unexpected events."
Frey's life and legacy was celebrated at the 2016 Grammy Awards, when the remaining Eagles members joined Jackson Browne for an emotional rendition of "Take It Easy." At that time, Henley declared the Eagles were done, calling the Grammy performance their "final farewell."
"The only way it felt justified to me was to have family blood in the band," Henley explained to Rolling Stone in 2017. "And I have to hand it to Deacon. He had done some gigs with his father – private parties, in front of maybe 200 people. To go from that to 50,000 people is extraordinary. I don't know many people who could have done that without freaking out."
Country singer Vince Gill was also brought into the group, helping Eagles continue in the wake of their co-founder's death. Ever resilient, the band launched a North American tour in 2018, followed by performances in Europe and Australia in 2019. A 2020 residence in Las Vegas had been planned before the coronavirus pandemic brought live music to a halt.
Even as Eagles push forward, their fallen bandmate remains close to their hearts. "Glenn was the one who started it all," Henley noted. "It will be very strange going forward in a world without him in it. But I will be grateful every day that he was in my life."
Eagles, CenturyLink Center, Bossier City, Louisiana, July 29, 2015
1. "Saturday Night" - from Desperado (1973)
2. "Train Leaves Here This Morning" - from Eagles (1972)
3. "Peaceful Easy Feeling" - from Eagles (1972)
4. "Witchy Woman" - from Eagles (1972)
5. "Doolin-Dalton" - from Desperado (1973)
6. "Tequila Sunrise" - from Desperado (1973)
7. "Doolin'-Dalton / Desperado (Reprise)" - from Desperado (1973)
8. "Already Gone" - from On the Border (1974)
9. "Best of My Love" - from On the Border (1974)
10. "Lyin' Eyes" - from One of These Nights (1975)
11. "One of These Nights" - from One of These Nights (1975)
12. "Take It to the Limit" - from One of These Nights (1975)
13. "Pretty Maids All in a Row" - from Hotel California (1976)
14. "I Can't Tell You Why" - from The Long Run (1979)
15. "New Kid in Town" - from Hotel California (1976)
16. "Love Will Keep Us Alive" - from Hell Freezes Over (1994)
17. "Heartache Tonight" - from The Long Run (1979)
18. "Those Shoes" - from The Long Run (1979)
19. "In the City" - from The Long Run (1979)
20. "Life's Been Good" - from Joe Walsh's But Seriously, Folks... (1978)
21. "The Long Run" - from The Long Run (1979)
22. "Funk #49" - from the James Gang's James Gang Rides Again (1970)
23. "Life in the Fast Lane" - from Hotel California (1976)
24. "Hotel California" - from Hotel California (1976)
25. "Take It Easy" - from Eagles (1972)
26. "Rocky Mountain Way" - from Joe Walsh's The Smoker You Drink, the Player You Get (1973)
27. "Desperado" - from Desperado (1973)
See Eagles and Other Rockers in the Top 100 Albums of the '70s