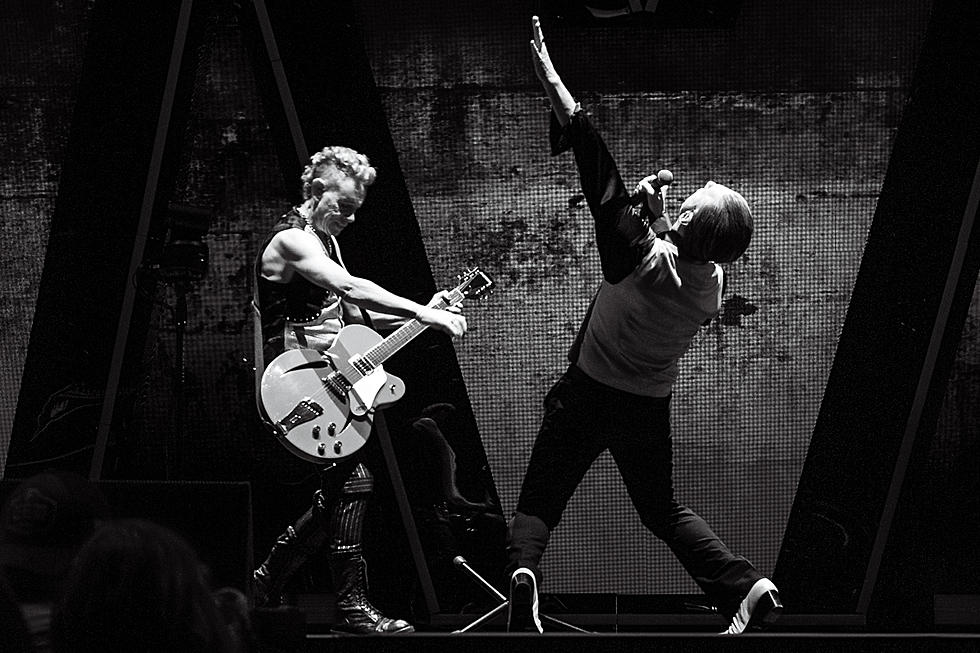 Depeche Mode Return to Northeast Ohio: Set List, Photos, Video
Jim Cook, Ultimate Classic Rock
To quote Depeche Mode, everything counts -- and they certainly made their Nov. 10 return to Cleveland a memorable one. Photos and video from the performance are below.
It had been more than 20 years since the British alternative legends had performed in the city, making their last visit to the area in 2001 in support of that year's Exciter album.
New music finally brought them back, with four tracks from 2023's well-received Memento Mori record populating part of the set list for the night.
The bulk of the band's 23-song concert at Rocket Mortgage FieldHouse focused on the many classics that they've racked up across their impressive career of more than 40 years. But there were also a good amount of deeper cuts spiked in for the diehards.
Watch Depeche Mode Perform 'Strangelove' in Cleveland
The title track to 1986's Black Celebration LP was one such nugget, while multi-instrumentalist Martin Gore took the lead for an acoustic take on the fan favorite, "Strangelove." A similarly stripped take on "Condemnation," from 1993's Songs of Faith and Devotion was another thrilling moment during the sold-out evening.
Gore and vocalist Dave Gahan took a moment to honor their departed mate, Andy Fletcher, projecting his image on the screens as they delivered a poignant performance of "World in My Eyes" in his memory. The keyboardist passed away in May of 2022 and that was one question, how the band would carry forward in a reduced form.
The answer, as it turns out, was that they were going to do it with a lot of spirit -- both for those in the room and the ones who are no longer present. Gahan proved that he is eternally a chameleonic presence, both vocally and visually. His dancing throughout the night was infectious, punctuating the band's collective musical energy with each animated, swaggering step. Gore also got in on the action, showing off his own moves during "Enjoy the Silence," exchanging a high-five with Gahan as he concluded his dance.
Here's something else that was great about Depeche Mode's sold-out performance. Similar to their peers like the Cure and Duran Duran, they're getting a well-deserved victory lap. All of the naysayers and detractors who said these bands couldn't play and wouldn't stick around are having to eat those words as those same groups play some of the best concerts of their career, time be damned.
Watch Depeche Mode Perform 'Personal Jesus' in Cleveland
Watch Depeche Mode Perform 'Just Can't Get Enough'
Watch Depeche Mode Perform 'Enjoy the Silence' in Cleveland
Watch Depeche Mode Perform 'Walking in My Shoes' in Cleveland
Watch Depeche Mode Perform 'Black Celebration' in Cleveland
Watch Depeche Mode Perform 'Everything Counts' in Cleveland
Depeche Mode, 11/10/23, Rocket Mortgage FieldHouse, Cleveland
1. "My Cosmos is Mine"
2. "Wagging Tongue"
3. "Walking in My Shoes"
4. "It's No Good"
5. "Policy of Truth"
6. "In Your Room"
7. "Everything Counts"
8. "Precious"
9. "My Favorite Stranger"
10. "A Question of Lust"
11. "Strangelove" (acoustic)
12. "Ghosts Again"
13. "I Feel You"
14. "A Pain That I'm Used To"
15. "World in My Eyes"
16. "Black Celebration"
17. "Stripped"
18. "John the Revelator"
19. "Enjoy the Silence"
20. "Condemnation" (acoustic)
21. "Just Can't Get Enough"
22. "Never Let Me Down Again"
23. "Personal Jesus"
Depeche Mode in Cleveland, Ohio, Nov. 10, 2023
Depeche Mode returned to Cleveland for the first time since 2001
Gallery Credit: Jim Cook