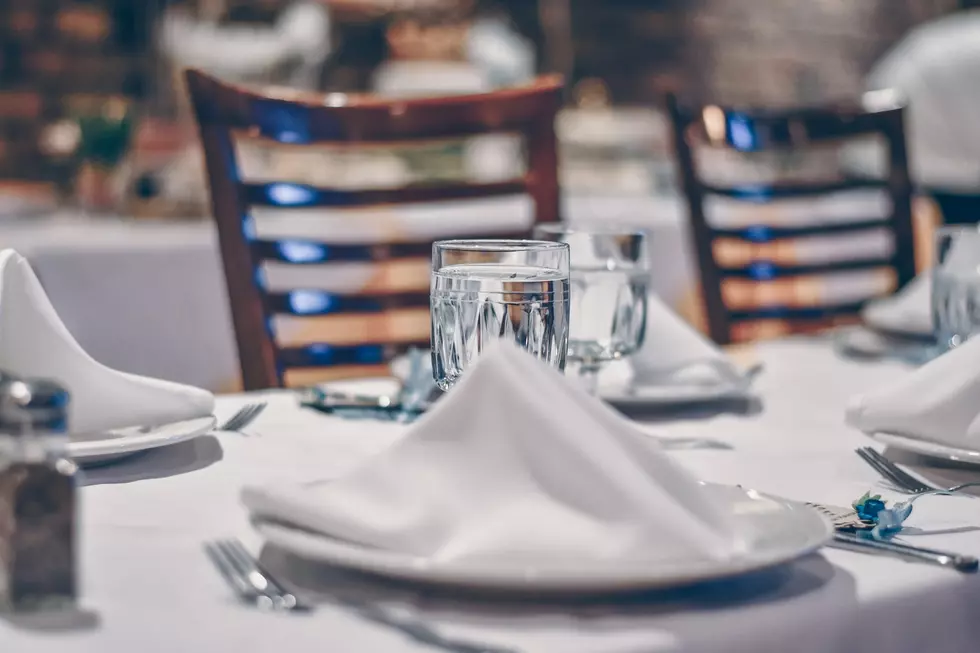 Locals Pick These 3 Restaurants as the Absolute Best in New Jersey
Restaurant table - Photo by Ibrahim Boran on Unsplash
When was the last time you went to a restaurant and had a truly mind-blowing meal?
I mean, one that you'll remember for years and years to come.
Sure, it's easy to go out and have a "good dinner" or a "great time," but we're talking about a night out that you'll think about for eternity.
But where exactly do you go for that level of culinary expertise?
With no shortage of world-class restaurants across practically all 8,722 square miles of New Jersey, that's not an easy question to answer.
If you are a diehard foodie who is always looking for that next five-star dish to be set in front of you, thousands of voters across the Garden State recently determined what are the best restaurants here.
And to make things easier, they picked three -- one in North Jersey, one in Central Jersey (we're assuming Central Jersey actually exists this time), and one in South Jersey.
Not too long ago, New Jersey Monthly asked folks to vote for their favorite restaurants and their selections did not disappoint.
Pull up a chair, grab a fork, and let's take dive in...
---
North Jersey Winner: Lorena's, Maplewood
What NJMonthly said:
Satisfying burgers, pastas and risottos coexist with crisp-skinned duck breast and a trout amandine on a lively vegetable hash. Desserts like warm chocolate cake and panna cotta seem like usual suspects, but the execution is exemplary.
Lorena's has a rather large trophy case as they were ranked #2 in the state by The Star-Ledger in 2005 and the best North Jersey restaurant in 2021 and 2022.
What diners say:
Restaurant Lorena's is a truly fantastic white table cloth dinner experience. The service and setting was delightful. It felt very upscale but in a welcoming way. The food was creative and flavorful with a unique twist on the classics.
Oh. My. Goodness. Easily the best meal of my life, and the service was fantastic. Every single person we interacted with was pleasant and eager to help.
Nothing truly compares with this restaurant in the NY, NJ, CT, and PA areas. There is a reason they are voted #1 each year. The service, the ambiance, the drinks, and especially the food are all exceptional.
Location:
Lorena's can be found at 160 Maplewood Avenue in Maplewood.
---
Central Jersey Winner: Nicholas Barrel & Roost, Red Bank
What NJMonthly said:
The Barrel part of the name refers to Nicholas's barrel-aged bourbons and subscription wine sales. "Roost" fits the menu—hello, fried chicken!—and also the overall informality.
What diners say:
First time here and loved it. The bourbon list has some great selections. We were a group of 6 and everyone enjoyed everything that was ordered. The ribs on the appetizer list were outstanding. The braised pig was phenomenal, their steak was cooked perfect!
Caught the menu between lunch and dinner and it was fantastic. The french onion soup was to die for and the pizza was cooked perfectly. Great vibe and environment, if it's this great between services, I can only imagine what it's like for dinner.
I'm not sure what the atmosphere was prior to the remodel, but currently it feels like a 5 star restaurant without the 5 star snootiness. It's comfortable and laid back. Once again the food and service are second to none. Great job guys! Me and my wife now have a new favorite restaurant...
Location:
Nicholas Barrel & Roost is located at 160 Route 35 in Red Bank.
---
South Jersey Winner: 410 Bank Street in Cape May
What New Jersey Leisure Guide says:
410 Bank Street, a long time favorite Cape May restaurant continues to offer well executed, creative, exotic fare, with matching ambiance ------- one of Cape May's best chef driven, fine dining experiences.

 

Diners are about to experience an attractive tropical setting with a charming walkway that takes you under cover of overhanging of wisteria vines towards the Victorian home with spinning fans and trimmed dining rooms as they are seated for dinner.
What diners say:
This restaurant never disappoints! From start to finish this place is amazing! The waiters are well informed to answer your questions and their impeccable service is greatly appreciated. The food is always fresh and thoughtfully presented. You are never rushed, and the rooms have a quiet or very low noise level.
Had one of the best meals of our lives last week at 410 Bank! Didn't have a reservation (definitely recommend that you do) but they graciously seated us at the only open table. Service was impeccable, food was OUTSTANDING, and the BYOB made it a little more affordable.
Excellent as usual. Fast and extremely consistent service. Food quality was excellent. Taste excellent! I had the smoked prime rib. Was second to none. Wife had woven fish dinner. Great presentation. Love this place….
Location:
410 Bank Street is located at, you guessed it, 410 Bank Street in Cape May. NOTE: This restaurant is closed during winter and is scheduled to reopen in April.
Every Amazing New Jersey Restaurant Featured on Diners, Drive-Ins and Dives
51 South Jersey Restaurants from Our Childhood We Totally Miss
Oh nostalgia, we miss restaurants that have closed in South Jersey. South Jersey residents say which restaurants they miss most from their childhood.