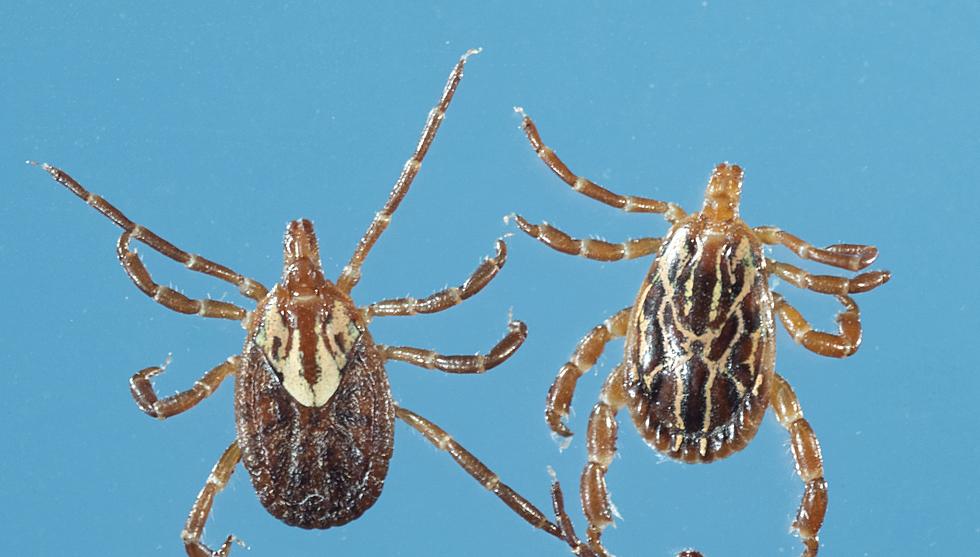 NJ congressman says U.S. should declare war on ticks
Courtesy Lyme Disease Association Inc & Jim Occi, PhD, Rutgers, CVB
⚠ If you're heading outside heed the tick warning
⚠ A NJ Congressman wants to do more to battle ticks
⚠ He's sponsoring a measure to create a national tick ID program
---
With cases of Lyme disease spiking in the Garden State, a New Jersey congressman is declaring war on ticks.
During a stop at a Bergen County Park in Mahwah on Wednesday, U.S. Rep. Josh Gottheimer, D-N.J. 5th District, announced he, along with U.S. Rep Tom Kean Jr., R-N.J. 7th District, is sponsoring the bipartisan Tick Identification Pilot Program Act.
He said the Act will award federal grants from the CDC for states to implement tick identification programs.
Report ticks electronically
"This program will allow individuals to electronically report tick incidents and receive feedback within 72 hours from experts at to the appropriate follow-up action," he said.
He noted many Jersey patients and families can spend years waiting for a correct diagnosis after being bitten by a tick.
He explained the program works by taking a picture of the tick, noting the location and date where it was encountered and submitting it to a database to track tick encounters and best practices.
"This will be crucial for research, education efforts and spreading awareness of where ticks are and where families should be careful."
Tick season now in full swing
The CDC will be required to submit a report to Congress on the effectiveness of the program after it is up and running.
Gottheimer said he is also introducing a measure that would boost investment for research and development in Lyme disease treatment.
Stamp out Lyme
"The Stamp Out Lyme Disease Act will create a brand new postage stamp to supplement Congressionally appropriated research funding for the National Institute of Health to research treatments for Lyme and tick borne disease," he said.
"That means when you're out mailing a birthday card or sending a letter to your grandmother you can help fund the research we need to finally find better treatments for the disease."
Lyme is treated with antibiotics but currently there is no cure for the disease.
According to data from 2020, the incidence rate of Lyme in the Garden State was more than 5 times the U.S. average and New Jersey had the fifth-highest Lyme disease case rates in the country. In 2021, there were 38 Lyme disease cases per 100,000 people in New Jersey, but the actual number of people with Lyme is believed to be much higher.
Gottheimer said 50% of Lyme disease cases in New Jersey occur in June and July, which is why it's vitally important to do tick checks about being outside and spread awareness about the disease right now.
Report a correction 👈 | 👉 Contact our newsroom
LOOK: 20 of the biggest insects in the world
Stacker
compiled a list of 20 of the biggest insects in the world using a variety of news, scientific, and other sources.
Plant Some Of These In Your Idaho Garden to Keep Mosquitoes Away
As we previously told you, mosquitoes are the most
dangerous creatures on earth
. If you want to keep them away from you're yard, these plants can help!
Offbeat adventures: Travel to the coolest hidden wonders in every U.S. state
Fuel your offbeat travel dreams.
Stacker
found the coolest hidden wonders in all 50 U.S. states (plus D.C.) using data from
Atlas Obscura
.
[WARNING: Under no circumstances should you enter private or abandoned property. By doing so you risk bodily harm and/or prosecution for trespassing.]