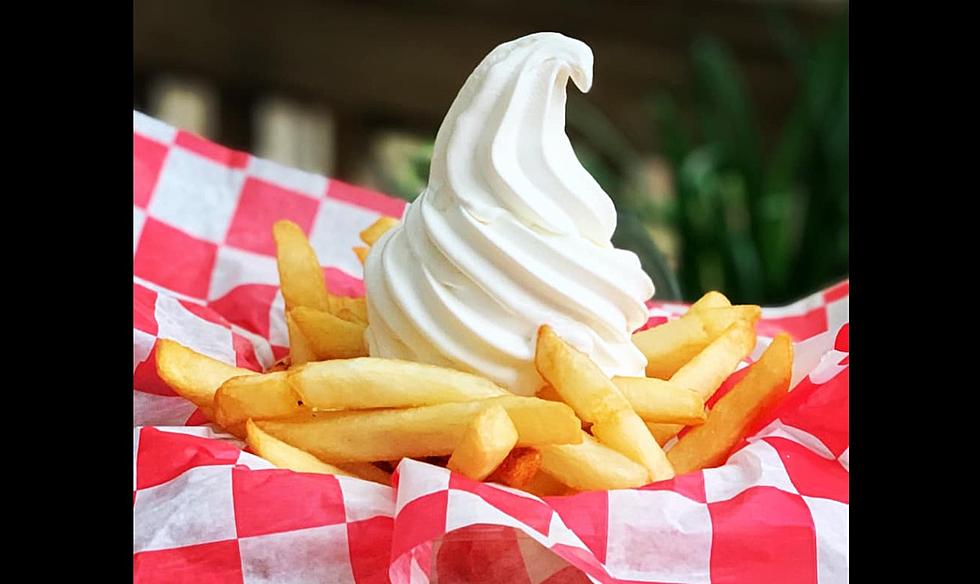 Salty and Sweet! Absecon, NJ Restaurant Serving Fries Topped with Soft Serve Ice Cream
thesunrsyer/Facebook
Some of you love the French fries and ice cream combo, while I can't wrap my head around it. But if you love mixing hot and cold, and custard with potatoes, you might want to haul your cookies to this restaurant in Absecon.

A bunch of my friends love to dip their fries in ice cream, particularly from a 'frosty' kind of fast food restaurant. It's never been MY bag. But this dish currently being served up at The Sunryser Restaurant & Deli has my taste buds bursting.
I've dined at Sunryser many times, so I already know I LOVE their fries. They're really yummy -- crispy and fluffy. I'm a sucker for a good shoestring fry.
I love sweet and salty. Savory and creamy. It all works for me. I just haven't been able to do the frozen and the fried together. But my goal before the end of the summer is to give this soft serve ice cream/French fries marriage a try. It's officially on my bucket list.
I need to know if you've indulged in this dish from The Sunryser (as a meal or dessert!). Definitely let me know your review in the comment box below!
Also, what's your favorite sweet 'n salty combo?
The Sunryser Restaurant & Deli is located at 632 N. Shore Rd. in Absecon.
18 of the Best Wings in South Jersey
A list of the 52 best places to get buffalo wings in New Jersey includes 18 restaurants and bars right here in South Jersey.
7 New Jersey Hospitals Ranked Among Best in the World
Newsweek magazine recently ranked the top hospitals on earth (based on criteria like innovation, patient care, research and consistency) and seven are in New Jersey.