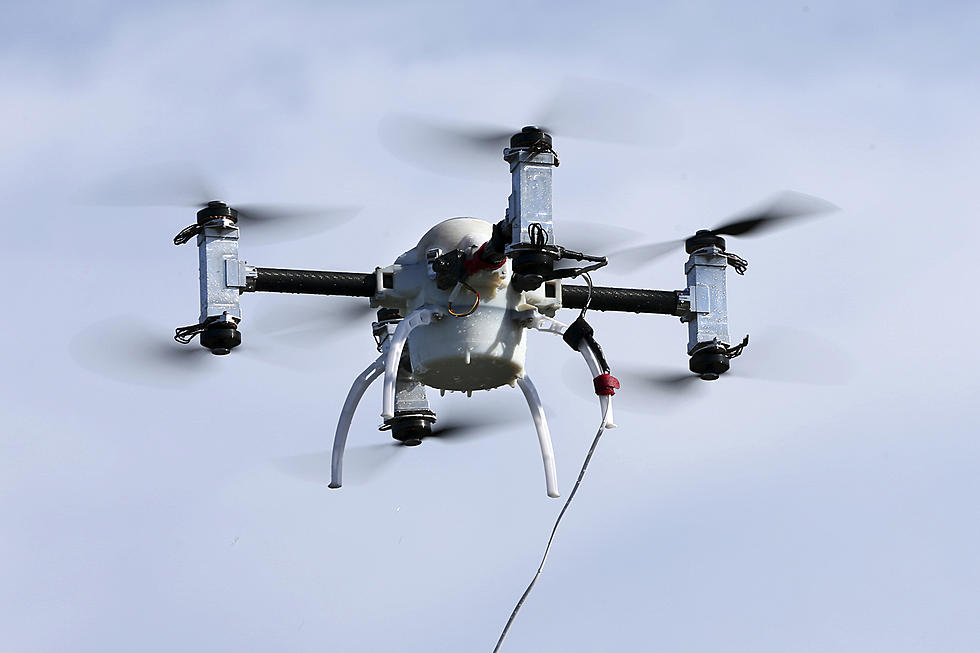 Seen any weird drone activity? NJ Homeland Security wants to know
A small drone with eight rotors, (AP Photo/Mel Evans)
⚠ NJ Drone Alert-Homeland Security sets up Unmanned Aircraft Systems dashboard
⚠ A warning drones can be used in terror and criminal activity
⚠ Members of the public are being asked report unusual activity
---
With drones increasingly being used to launch terror attacks, the New Jersey Office of Homeland Security and Preparedness has created an Unmanned Aircraft Systems dashboard on its website.
According to Homeland Security Preparedness Division Director Dan Engelhardt, the UAS dashboard was launched because of the proliferation of drones buzzing around the Garden State.
He said they're basically everywhere.
"With that comes a lot of challenges in terms of what are the rules of the road, or in this case rules of the air."
Drones and bad actors
Homeland Security wants to encourage the safe use of drones while also raising public awareness about how they may be used for terrorism and attacks.
Currently, there is no specific information indicating any threat.
"We're always looking over the horizon and that is something we have to take into account," he said.
Engelhardt said drones may also be used for espionage and reconnaissance purposes, which means "foreign nation states utilizing these technologies to extract information from sensitive sites, and obviously we have plenty of critical infrastructure we need to cover here in New Jersey."
Drones are prohibited near airports as well as military installations, utility facilities and large public venues such as stadiums.
Suspicious activity
The public can assist law enforcement by reporting any kind of unusual drone activity they see.
He noted in sensitive areas drones can be used "to observe security personnel's response, sort of a probing type of measure looking to see what the response would be on the ground."
Englehardt said another possible sign of trouble would be "devices that have an unusual modification, visible loose wires, the lights taped over or removed, additional visible batteries that are attached."
Crooks use drones too
He said drones may also be used in criminal activity.
"These systems have been used to bring contraband into prisons, and affect property damage in certain cases."
When asked if NJOHSP has stopped any potential terror attacks using drones, he said "That's information that is law enforcement sensitive so we're not going to go there."
Think you have information?
Anyone who observes a perceived drone threat should call local police or NJOHSP at 1-866-4-SAFE-NJ.
The website was launched in collaboration with the New Jersey State Police and the state Department of Corrections.
David Matthau is a reporter for New Jersey 101.5. You can reach him at david.matthau@townsquaremedia.com
Click here to contact an editor about feedback or a correction for this story.
Weird things NJ taxes - and some they don't
In general, New Jersey assesses a 6.625% Sales Tax on sales of most tangible personal property, specified digital products, and certain services unless specifically exempt under New Jersey law.
However, the way the sales tax is applied in New Jersey sometimes just doesn't make sense.
New Jersey puts out an itemized list for retailers that spells out what is, and what is not, taxed.
Perhaps because this is New Jersey, there are some bizarre and seemingly contradictory listings.
Most affordable places to live in New Jersey
SmartAsset released a study analyzing the
most affordable places to live in New Jersey
. The eighth annual study weighed several factors, including taxes, homeowners' insurance, and home costs relative to the local median income.