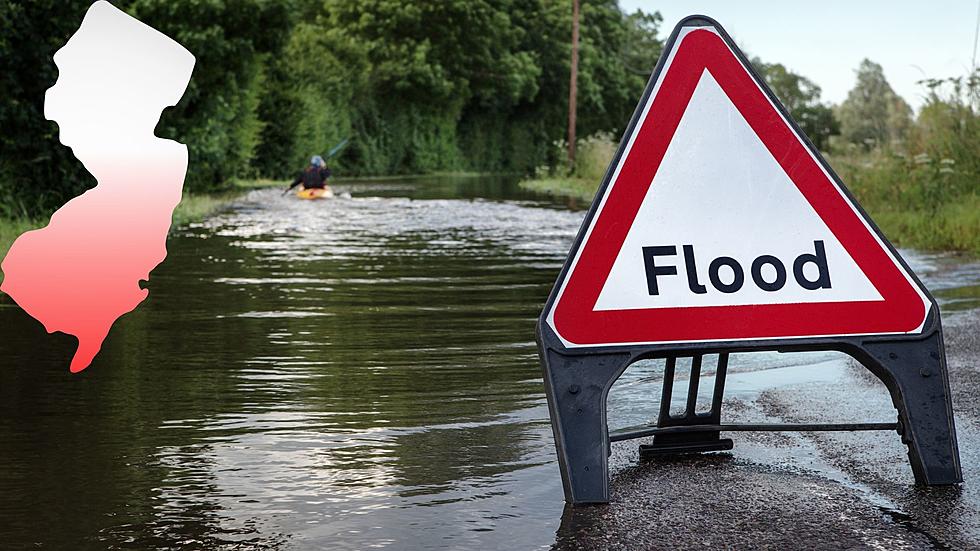 The plan to stop flooding for the next 100 years in NJ
Photo via Canva
My wife Jodi and I were invited in to participate in a flood mitigation meeting this week.
As I've been saying for years, the key to turning New Jersey around and restoring the place where people move to raise families, start businesses, vacation and even retire starts with our mayors.
The radicals in Trenton want you to believe that climate change, something that has been going on since the Earth began, is to blame for the flooding we've been experiencing recently.
They want you to believe that storms are suddenly more severe than they were before the industrial age. The problem? It's not accurate.
They want you to be distracted from the truth that the climate has gone through radical changes long before the elites were circling the globe in their private jets.
In fact, the Earth was warmer 1,500 years ago than it is today.
A great reference book to debunk a lot of the noise and propaganda is "Unstoppable Global Warming."  Another great resource from several of the smartest scientific minds in America shows how we actually have the lowest CO2 in 600 million years, facts do matter.
A simple look under the hood exposes that the radicals are lying again to distract away from the incompetence and negligence from Trenton. Specifically, the incompetent and extreme agenda-driven DEP is to blame for most of the damage and destruction we've see recently.
Waterways across New Jersey are subject to flooding even in the slightest rain storm, making a rain event dropping just a couple of inches a serious threat to the communities on the river banks.
How can they say with a straight face that we need to convert to all-electric when they themselves have ignored the fact-based calls for flood mitigation from our mayors?
The DEP has been serving as an obstruction to change in our state throughout the Murphy administration. Denying permits, sending in the police to stop clean-ups, the stories from the Morris County mayors would blow your mind.
The bottom line is that while decrying development, the hypocritical Murphy administration bureaucrats and complicit legislators push forward with overcrowding our small towns in the name of affordable housing.
They override their own rules to build, build, build.
They offer zero infrastructure support for the towns in the way of police, fire, energy, education and transportation infrastructure.
It's time to stand up for small-town New Jersey.
It's time to push back against the affordable housing mandates that are crushing our local communities.
It's time to dredge, de-snag and rebuild the banks in order to save our towns from flooding.
It's not the ever-changing climate causing the problem. It's the morally bankrupt, radical environmentalists running our government who have neglected basic flood mitigation for decades who are to blame.
I want to thank the engineers at Colliers for providing so much context and mapping out the plan. I also want to thank the mayors of the Whippany/Passaic Flood Remediation Task Force leaders for standing up for New Jersey and having the courage and common sense to fight back.
Hanover Mayor Ace Gallagher, Florham Park Mayor Mark Taylor, Parsippany Mayor Jamie Barberio, East Hanover Mayor Joe Pannullo, Morris Plains Mayor, Jason Karr and Caldwell Mayor Joe Tempesta all joined the conversation this week.
Morristown Mayor Tim Daugherty was not there but is another strong member of the team.
Congresswoman Mikie Sherrill did step up to secure $1.5 million grants for the de-snagging to begin, and she should be congratulated for the effort.
Isn't it absurd that the bar is so low, that politicians are congratulated for just doing their job?
Of course, even with this victory, it's a drop in the bucket compared to the one hundred million dollar estimate to do the job completely for the region.
As she gears up for a possible run for governor, she continues to fight for federal money for this project.
For our part, given the delays and incompetence from the Biden administration (which Sherril supports 100%), it's going to be a long time to come in.
If we want change now, if we want to protect our communities today, we need to elect common-sense leaders of courage in 2023 and a new governor in 2025 in order to focus the 2026 state budget to reflect a full investment for the flood mitigation plan.
Our next stop is to meet with Bergen County mayors led by my friend Michael Ghassili who is the mayor of Montvale.
They are facing a similar flooding crisis and have formed a task force to tackle the problem.
Help is on the way, New Jersey.
Come meet me on the trail! Click on my events page here and see when my upcoming events are.
Most Expensive House For Sale in Atlantic County
Located on Bayshore in Margate, the 8,200+ square foot home is listed at $7.9 million. The home has seven bedrooms, eight baths, and 324 feet of total bay frontage. Outside, it has 2,500 square feet of deck space, a pool, and four boat slips. Property taxes for the home were $49,920 last year.
The post above reflects the thoughts and observations of New Jersey 101.5 talk show host Bill Spadea. Any opinions expressed are Bill's own. Bill Spadea is on the air weekdays from 6 to 10 a.m., talkin' Jersey, taking your calls at 1-800-283-1015.