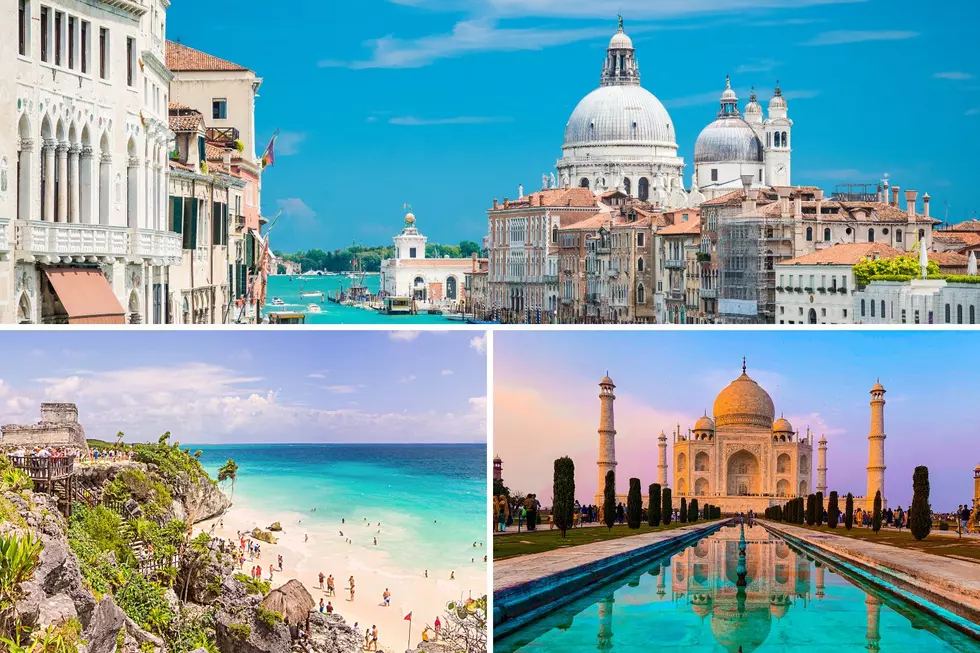 The Top 3 International Destinations NJ Residents Love In 2023
Canva
Well, it's definitely winter here in the Garden State. It's chilly most days and rainy for plenty of the others. We've got that in our future until about mid-April.
Raise your hand if you're in desperate need of a break? 🙋‍♂️🙋
I know I am. Vacation, anyone? I'm planning on taking a trip to Nashville next month, but boy, would I LOVE to be jetting off somewhere even further away. It's not that I feel the need to get far away from Jersey or anything, but going to Nashville isn't exactly escaping to somewhere with bikini weather for a few days, you know what I mean?
When taking in everyone's posts on social media lately, it seems like more people are taking vacations this year than they have in the last few years. Sure, that has to do with the world being a bit safer in terms of the pandemic, but I also think people just genuinely need to leave their troubles behind for a few days in an effort to get some peace.
Believe me, I can TOTALLY relate to that.
So, where are New Jersey residents flocking to for vacation this year? According to a new survey, there are three countries in particular that New Jerseyans seem eager to explore in 2023.
India
You'd think most Jersey residents would be flocking to Europe, but according to AirportParkingReservations.com, results of their recent survey show that more NJ people are interested in exploring India. Who doesn't want to go see the Taj Mahal up close?
Italy
It's not like Jersey doesn't like Europe anymore. Quite the contrary. Many New Jersey people have a trip to Italy planned in 2023. Don't forget how many Jersey residents have Italian blood coursing through their veins. Milan, Venice, Rome, there's SO MUCH you can pack into an Italian vacation.
Mexico
Did someone say "all-inclusive?" Sometimes, you just need the beach, a good cocktail, and some rest and relaxation. No wonder so many Jersey residents have a trip to Mexico planned for this year.
To check out the survey for yourself, click HERE.
If there's no way you're headed out of the country this year, there's plenty of awesomely fun excursions to do right here in the Garden State:
Hang Out With Wolves At Howling Woods Farms In Jackson, NJ!
Did you know that there's a place in New Jersey where you can get up-close and personal to wolves? It's pretty cool!
Howling Woods Farm
is the organization and they teach you all about wolf preservation and responsible care for these animals.
Relax And Reconnect With Nature At This Amazing Farm Stay in Mays Landing, NJ
JustBe Farm is the passion project of both Kate and Ray, two South Jersey locals who wanted a place where they could reconnect busy children, teens, and adults with nature.
Check Out the Whale House!
It's Whaley a Cool House!