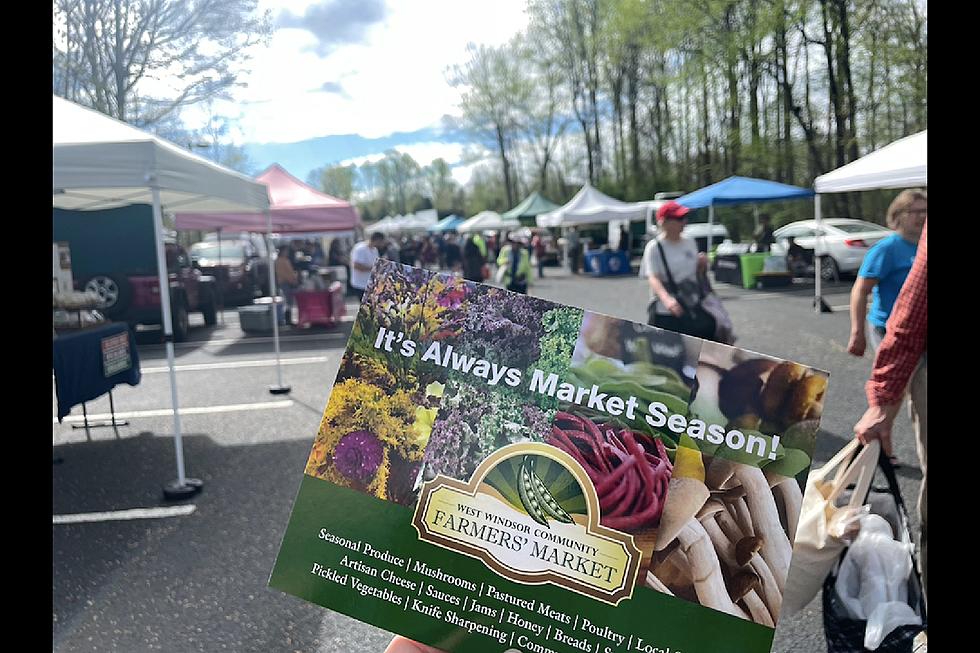 Top rated NJ farmers market will kick off the 2023 season this weekend
West Windsor Farmers' Market
It's always great to support local vendors, and what better way to do it than at a farmers' market? Especially now that the weather is getting warmer.
The award-winning West Windsor Farmers' Market is kicking off their 20th market season this Saturday, May 6.
From then until Thanksgiving, the market will be open every Saturday (rain or shine) from 9 a.m. until 1 p.m. Its location is the Lower Vaughn Lot at the Princeton Junction Train Station. Use the entrance at 877 Alexander Road.
Last year, they were named the No. 1 farmers' market in New Jersey, and No. 4 in the nation.
According to the market's manager:
There's really something for everyone to enjoy at the market - whether sitting and enjoying the music with a cup of coffee and a pastry, or dropping your knives off for sharpening while you run to get your weekly seasonal produce.
Fun fact - all our farms and vendors are from NJ with the exception of one mushroom grower from Kennett Square - they've been with us so long, they're grandfathered in!

Our mission is to support New Jersey farmers and connect the community to the folks who grow, raise and produce their food - and that we do.
It's sure to be a good time. How could you say "no" to local produce like this?
What kind of local businesses attend the market? Take a look at the vendors you can expect:
Farms:
Beechtree Farm
Bobolink Dairy & Bakehouse (attends 2nd & 4th Saturdays)
Cherry Grove Farm
Chia-Sin Farm
Davidson Exotic Mushrooms
Gorgeous Goat Creamery
Griggstown Farm
Hopewell Valley Vineyards (begins 5/13)
Jeff's Organic Produce -
Jersey Girl Cheese
Krowicki Farm
Moonshot Farm
Morganics Family Farm
North Slope Farm
Snapping Turtle Farm
Terhune Orchards (begins 5/13)
Two River Gourmet Mushrooms
WoodsEdge Farm
---
 Producers/Non-Farm Vendors:
Azuca Patisserie (attends 1st & 3rd Saturdays)
Barking Good Bakery
Bebe's All Natural
Bread & Culture
Butter Lust
Cap-Sai-Cin
Catalina Empanadas
Contemplate Kitchen  (attends 1st & 3rd Saturdays)
Dr. Pickle
Frank's Pickled Peppers (attends 1st & 3rd Saturdays)
Helpful Foodie
Jams by Kim (attends 2nd & 4th Saturdays)
Jammin' Crepes food truck
Kelly Girl Desserts & Pastries (attends 2nd & 4th Saturdays)
Krakus Deli -
Lisa's Mandelbites (attends 3rd Saturdays)
Little Star Foods
Local 130 Seafood
LoRe Pasta
Mishti Chocolates
Nice and Sharp
One CompostCan
One Up One Down Coffee
Pineapple Pink
Sugar Street Bakehouse  (attends 2nd & 4th Saturdays)
Tea-For-All
Terra Momo Bread Co
Tico's Juice Truck
ZeraLeaf
And while you're there say "hi" to one of our faithful listeners, Cast Iron Kyle, he can show off his cast iron restorations.
In addition to the various vendors, there will be music from Ed Goldberg & the Odessa Klezmer Band.
Be sure to take some time this summer to check it out even if you can't get there this weekend to support our NJ businesses!
Check out West Windsor Farmers' Market's website here.
A simple summer salad - Jersey style!
The post above reflects the thoughts and observations of New Jersey 101.5's Kylie Moore. Any opinions expressed are Kylie's own. You can follow Kylie on Instagram.
Click here to contact an editor about feedback or a correction for this story.
Say you're from Jersey without saying you're from Jersey
These are everyday expressions that only someone from New Jersey would get. What else should be on this list?