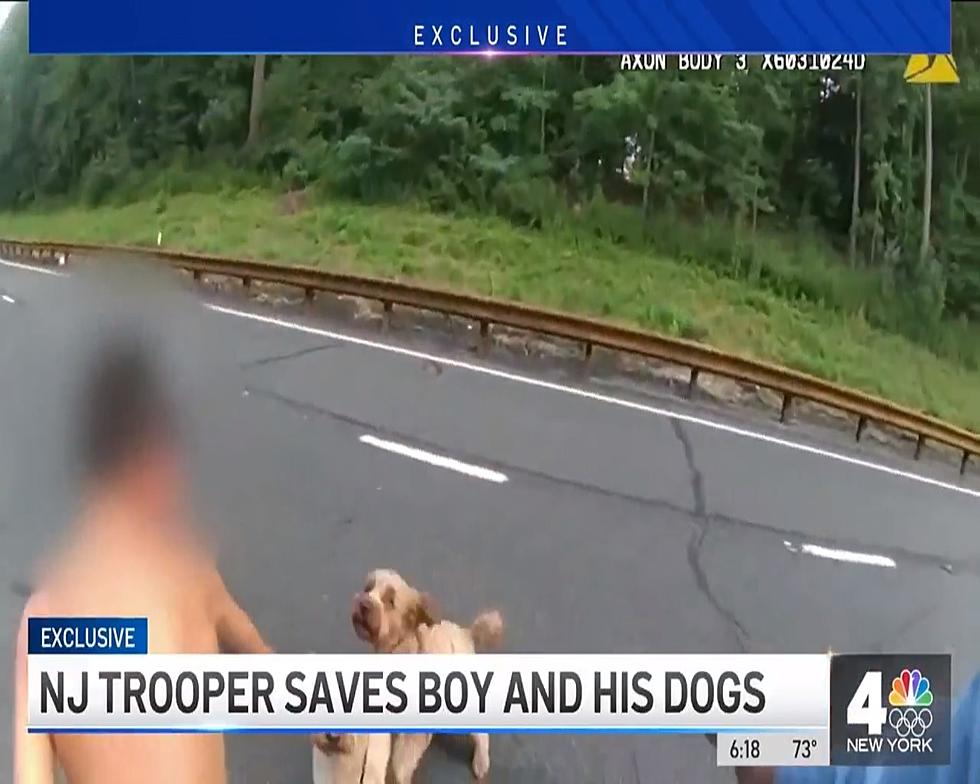 Watch NJ State Trooper's Swift Rescue Of A Boy And His Two Dogs On The Garden State Parkway
c/o NBC 10 Philadelphia via NBC NY
An amazing rescue by an NJ state trooper is going viral on social media, and for a good reason, too.
Kudos to the trooper featured in the viral video. Without him, a little boy and his two dogs may not be alive today. That's no exaggeration. State Trooper Jamarr Morris is being praised as a hero for what he did to make sure a little boy whose dogs got loose on the Garden State Parkway made it out of that situation safe.
Morris's bodycam footage shows how he went straight into action after spotting the boy and his dogs. He started to slow down traffic in an attempt to make sure neither the kid nor the pups were run over. Morris isn't the only one that attempted to disrupt the flow of traffic to protect the boy. A woman named Stephanie Woit reportedly got out of her vehicle and attempted to stop traffic, too. According to Morris, Woit, along with the other civilians who stopped to help, are the true heroes.
Of course, Woit doesn't see it that way. Morris risked getting bitten by the dog that the boy didn't have on the leash in an attempt to try and save the boy's pet. Woit tells NBC10 that it was clear the boy was scared. She even said that at one point, the boy's lip was quivering so badly out of fear for his dog's life. Luckily, State Trooper Morris was able to save the day, and everyone escaped the situation without injury.
Take a look at the epic moment HERE.
Source: NBCPhiladelphia.com
South Jersey Dog Parks for Your Furry Friends
South Jersey's Most Adorable Pets That Will Melt Your Heart
South Jersey's most adorable and cutest pets submitted to us by listeners
How to protect yourself against West Nile, other mosquite-borne diseases
According to the New Jersey Department of Health, residents should take the following steps to help prevent diseases transmitted by the bite of a mosquito.
Take an Exclusive Look Inside the New Somers Point, NJ, Target Store
Bullseye! Here's what the new Target in Somers Point is beginning to look like...