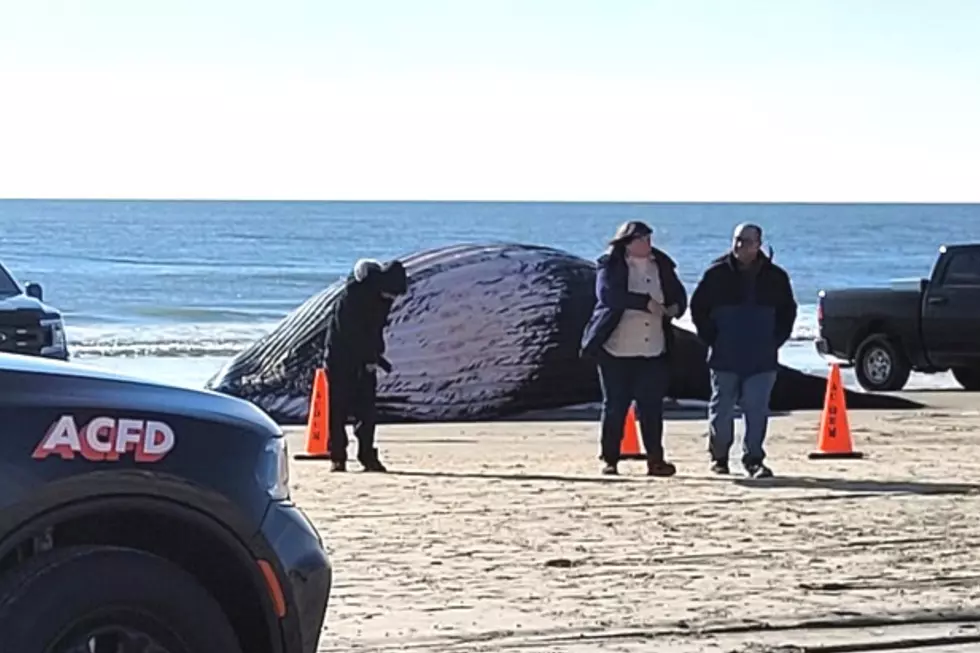 6 beached whales in 33 days — NJ groups say offshore wind may be to blame
A dead whale washed up on an Atlantic City beach 1/7/23. (Atlantic City)
Advocacy groups believe they know why the New Jersey region has seen half a dozen beached whales over the span of 33 days: offshore wind energy infrastructure.
On Monday, two days after a 30-foot humpback washed ashore in Atlantic City, ocean advocacy organizations sent a letter to President Joe Biden, demanding an immediate investigation into the recent whale deaths and calling for a pause on all ongoing wind-energy activity offshore.
"Never have we ever heard of six whales washing up within 33 days," said Cindy Zipf, executive director of Long Branch-based Clean Ocean Action. "We don't know how many whales may have died offshore."
Zipf led a press conference on the Atlantic City beach on Monday afternoon. Prior to Saturday's incident, the resort town saw a beached whale on Dec. 23.
On Dec. 5, an infant sperm whale washed ashore in Keansburg, and on Dec. 10, a juvenile humpback whale was spotted along Strathmere Beach. Dead whales were found off of New York's coast on Dec. 6 and Dec. 12.
None of the whales exhibited obvious cause of deaths, such as ship strikes or predator attacks, the groups noted.
"The only thing different this year than in past years is the enormous amount of offshore pre-construction and development activities occurring by the offshore wind industry," Zipf said.
A dead dolphin washed ashore on Jan. 2 along Sandy Hook.
Letter to President Biden
In a letter dated Jan. 9, Clean Ocean Action and groups in support of COA's mission cited the whale deaths as "an urgent, timely and grave concern."
"These whales' species statuses are all protected or endangered," the letter says.
The letter makes three demands:
An immediate, transparent investigation into the deaths from Cape May, New Jersey, to Montauk Point, New York
A halt to all current offshore wind energy development activity within the region until the cause of the marine mammal deaths is determined
A full-stop on behind-the-scenes wind energy work, such as permitting, solicitations, and leasing activities until the cause of the marine mammal deaths is determined
"We're not opposed to the idea of offshore wind development, but we want to make sure it's done right," Zipf said at the press conference. "Until we know more, this is all too much, too fast."
In addition to COA, the letter was signed by Protect Our Coast NJ, Save LBI, Long Island Commercial Fishing Association, and Defend Brigantine Beach.
Suzanne Hornick, with Protect Our Coast NJ, said "offshore wind is not the way to go" in the government's quest to rely more heavily on clean energy.
"We believe that it'll cause more pollution and animal deaths than we need," Hornick said. "There are better, cheaper, cleaner alternatives, and that is what we should be investing our money in."
Dino Flammia is a reporter for New Jersey 101.5. You can reach him at dino.flammia@townsquaremedia.com
Click here to contact an editor about feedback or a correction for this story.
States with the most registered hunters
Stacker
analyzed data from the U.S. Fish and Wildlife Service to determine which states have the most registered hunters. Read on to see how your state ranks on Stacker's list.
Most Controversial Celebrity Magazine Covers Ever
Below, discover the most controversial celebrity magazine covers to ever hit the newsstands.