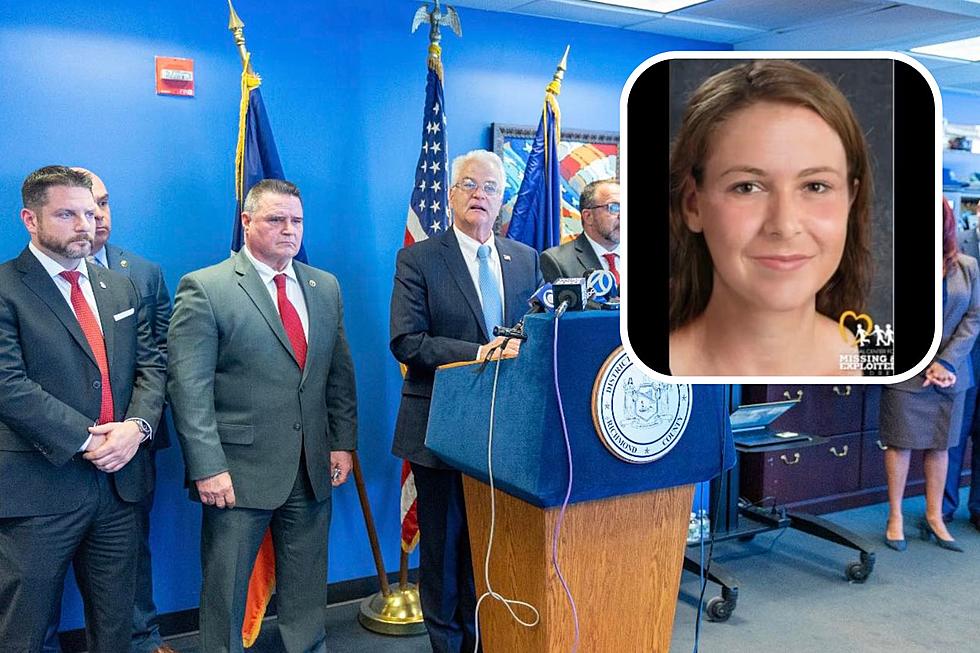 Burned, brutalized remains ID'd as NJ woman: Have you seen her daughter?
Artist rendition of Christa Nicole, Richmond County District Attorney Michael E. McMahon (Richmond County District Attorney's Office)
NEW YORK CITY — Investigators in Staten Island are hoping the public can identify the now-34-year-old daughter of a New Jersey woman whose burned and mutilated remains were found in a wooded area in 1991.
Those remains, for a long time referred to as "the girl with the scorpion tattoo," were recently identified as belonging to as Christine Belusko, a Morris County native who was brutally beaten with a hammer before her handcuffed body was set on fire.
When authorities notified Belusko's brother, he told them that Belusko had a 2-year-old daughter, Christa Nicole, at the time of her disappearance. He did not know who the child's father was.
No arrests were ever made and a suspect was never identified.
District Attorney Michael E. McMahon said "this case was followed with great sorrow and public intrigue across the borough and beyond and she became known as 'the girl with the scorpion tattoo."
New technology brings results
McMahon decided to use forensic genealogy in 2019, a technology not available at the time of the body's discovery.  Working with the FBI, the NYPD, the medical examiner's office and a forensics lab the body was identified in April 2021 as Christine Belusko.
McMahon said detectives have come up empty in their search of records for the possible whereabouts of Christa Nicole after her mother's death. They released an age-progression photo in hopes of the public finding her.
Belusko worked in a Rainbow Shop clothing store at the time of her death and was wearing a dress sold by the store, according to McMahon.
Belusko's last known address was in Clifton where she lived until late July 1991. She was staying at the Mt. Airy Lodge in the Poconos in the weeks before her death, according to NYPD Chief Investigator Lt. David Nielson.
McMahon would not disclose the reasons Belusko was on Staten Island the day of her death.
He asked the public for their help in trying to solve the crime as investigators have exhausted their leads.
"Now we need the public's help so issue this cry for help so that we, together, as a community of Staten Island can once and for all can bring closure and justice to the case of the 'the girl with the scorpion tattoo."
Information about Belusko's daughter or her killer should call 1-800-577-TIPS.
Dan Alexander is a reporter for New Jersey 101.5. You can reach him at dan.alexander@townsquaremedia.com
Click here to contact an editor about feedback or a correction for this story.
How much your school district gets under Murphy's proposed 2024 budget
Gov. Phil Murphy's porposed 2024 budget includes $1 billion in new spending for school funding including pre-K funding, pension and benefits, and an additional $832 million in K-12 aid, which is listed below by county and district.
Play ball NJ: These MLB pros are from New Jersey
A fair amount of New Jersey born baseball players have made it to the majors. These pros, active to start the 2023 season, all have NJ roots.
Weird things NJ taxes - and some they don't
In general, New Jersey assesses a 6.625% Sales Tax on sales of most tangible personal property, specified digital products, and certain services unless specifically exempt under New Jersey law.
However, the way the sales tax is applied in New Jersey sometimes just doesn't make sense.
New Jersey puts out an itemized list for retailers that spells out what is, and what is not, taxed.
Perhaps because this is New Jersey, there are some bizarre and seemingly contradictory listings.