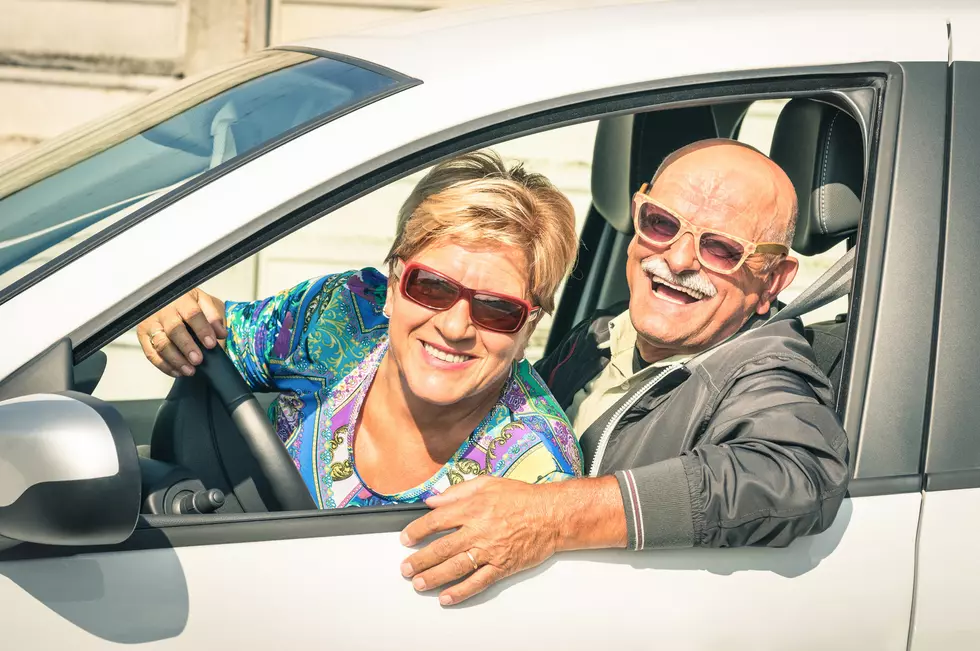 How to stop your elderly relative from driving dangerously in NJ
ViewApart ThinkStock
🚘 How to report a dangerous older driver in New Jersey
🚘 There is a special unit that can test them and take them off the road
🚘 The MVC says it's a big step, but taking away a license may be necessary for safety
---
What happens if an elderly parent, relative or friend seems to suddenly be having trouble driving, what are the options and what should you do?
There is no law in New Jersey that requires drivers who reach a certain age to be retested, but there is a system in place to deal with these kinds of problems, issues and concerns.
According to William Connolly, spokesman for the New Jersey Motor Vehicle Commission, there is a medical review process to identify drivers when they have a medical condition or if they exhibit any troubling behavior or show signs of impairment when they're behind the wheel.
The MVC medical review unit will look into it
He said the MVC medical review unit accepts, screens and establishes cases based on referrals from relatives, friends, physicians, law enforcement, courts, social workers and other sources.
"If we get a referral where someone has a concern we start working that case," he said.
How does the process work?
He said once a report about a driver has been received medical forms will be mailed to the driver for completion, and the driver has 45 days to complete the forms and return them to MVC.
He said if the forms are not returned, the license will be suspended.
Connolly said once the forms are filled out they're evaluated on a case-by-case basis.
"Many times drivers are cleared, we get feedback from the physician that there's no concern, other possibilities are the license could be suspended depending on the feedback from the physician, or we can send the driver for reexamination or retesting," he said.
"This could include either the written test, the vision test or the road test for driving," he said.
He said the MVC wants to make sure when there are questions all drivers have an opportunity to demonstrate they still can operate a motor vehicle safely.
Drivers are given a fair chance to prove they are competent
"When you're going through this process for re-examination a driver is given three attempts to pass each portion of the test," he said.
"If we get a referral to our medical review unit, it does not mean your license is automatically suspended. What it means is our staff will work with drivers, physicians and other experts to determine the appropriate course of action."
Connolly said MVC understands this is a serious issue because not being able to drive is a big step, but we need to keep the big picture in mind: "The safety of our roads depends on having safe, skilled and competent drivers."
He stressed if necessary drivers will be taken off the road.
Safety must come first
"A big portion of road safety is having drivers that have the ability to safely operate a vehicle," he said.
He added drivers should be cognoscente of their own ability to drive and if there are concerns there should be discussions with family members and their doctor.
To find out how to make a referral to the medical unit can get information here, or call 609-292-7500, ext. 5032.
Connolly stressed the medical review unit cannot and will not accept anonymous reports about a driver.
According to the MVC any of the following may raise a safety concern:
⚫ Not obeying traffic signals or motor vehicle laws
⚫ Driving too slowly
⚫ Multiple accidents or "close calls"
⚫ Inability to read signs
⚫ Fear or nervousness related to driving
⚫ Vehicle has multiple signs of unexplained damage (dents, scratches, missing
side view mirrors/parts
Signs of Impairment can include:
⚫ Confusion
⚫ Disorientation
⚫ Memory loss or lapses
⚫ Impaired or altered consciousness
⚫ Alzheimer's or dementia
⚫ Neurological conditions such as seizure or blackout disorders and/or
⚫ Sleep disorders (sleep apnea)
David Matthau is a reporter for New Jersey 101.5. You can reach him at david.matthau@townsquaremedia.com
Click here to contact an editor about feedback or a correction for this story.
LOOK: See how much gasoline cost the year you started driving
To find out more about how has the price of gas changed throughout the years, Stacker ran the numbers on the cost of a gallon of gasoline for each of the last 84 years. Using
data from the Bureau of Labor Statistics
(released in April 2020), we analyzed the average price for a gallon of unleaded regular gasoline from 1976 to 2020 along with the Consumer Price Index (CPI) for unleaded regular gasoline from 1937 to 1976, including the absolute and inflation-adjusted prices for each year.
Read on to explore the cost of gas over time and rediscover just how much a gallon was when you first started driving.
Bands That Broke Up in 2022
Sadly, these bands either announced a breakup, went on indefinite hiatus or broke up entirely in 2022.
25 True Crime Locations: What Do They Look Like Today?
Below, find out where 25 of the most infamous crimes in history took place — and what the locations are used for today. (If they've been left standing.)