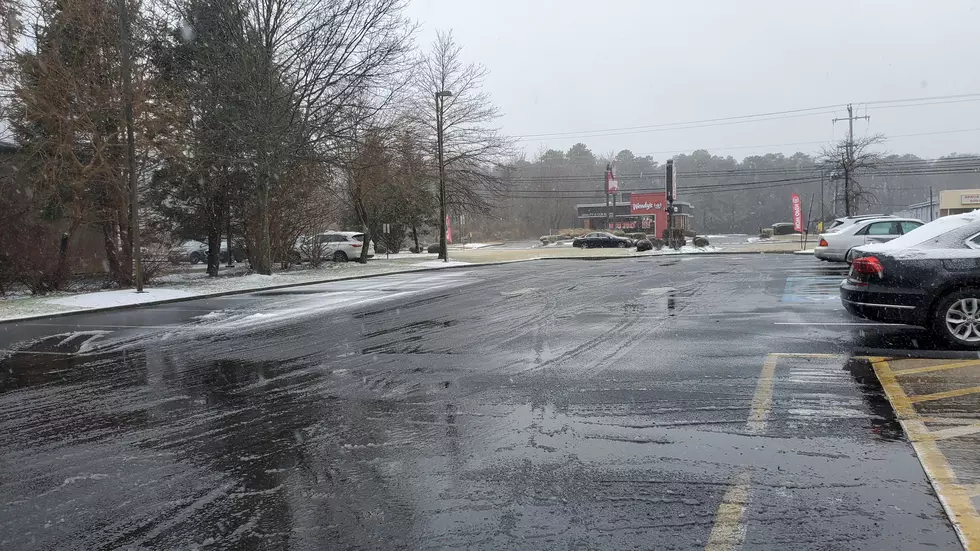 Nor'easter Brings Just About Everything Except Big Snow to South Jersey
Minimal snow on the ground in Northfield, NJ, Tuesday morning as a large nor'easter departs - Photo: Chris Coleman
While just about every part of the state saw big (near recording-breaking) snowfall totals with this latest nor'easter, if you live here at the shore, you didn't even need to take your snow shovel out of the garage.
Chief Meteorologist Dan Zarrow says 11 of New Jersey's 21 counties saw at least a foot of snow since Sunday. Several saw much more than that -- according to the National Weather Service, parts of Sussex County received 26 to 33 inches of snow, up to 31 inches fell in parts of Warren and Morris Counties, and almost a foot blanketed western parts of South Jersey along the Turnpike.
Meanwhile, in our immediate area one inch of snow was officially measured at Atlantic City International Airport.
One.
And while a little more fell out towards Hammonton where about four inches is on the ground, the shore squeaked-by with practically nothing (for example, 0.5" in Somers Point).
Now, we didn't exactly dodge a bullet -- numerous roads were closed due to coastal flooding, people had to be rescued from some of the motels along the Black Horse Pike in West Atlantic City, some pretty significant beach erosion was reported in the Wildwoods, we saw winds gusting 40 to 50 MPH, and chances are your ice scraper got a good workout Tuesday morning. But as for snow, it seems we'll have to wait for the next one.
If you are a snow lover, keep in mind that there is still lots of winter ahead of us. In fact, temperatures look to be taking a tumble early next week with highs only in the 20s for Monday.
Here's what the storm did across the Garden State...
NJ snowfall totals for Jan. 31-Feb. 2 storm
Enter your number to get our free mobile app