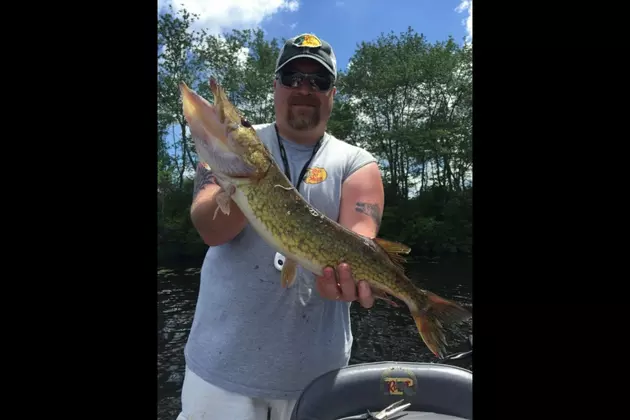 Prime Time for Pickerel in South Jersey
John "Big Country" Hagaman
Lost in the sauce on the springtime freshwater fishing platter is the chain pickerel (not to be confused with its much smaller kin, the redfin pickerel), and this aquatic assassin certainly demands attention for its savagery, gameness and willingness to strike lures and inhale live baits (minnows/shiners) with suicidal abandon. It's especially active from early spring well into June, and it seems the feed bag is always on.
All these plus, in south Jersey, it can be found just about anywhere, including the acidic rivers, streams and bogs in the Pine Barrens.
To be sure, this lean 'n mean gamefish, sporting the dentition of a tyrannosaur and distinctive chain-like markings, is built for speed and ambush, and when in feeding mode, will shoot from cover and put the clamp down. The prey has no escape. Done. Over. Tuite finuite.
Ignominiously referred to as "snakes" and "slime darts" among other unflattering nom de plumes, the chain pickerel can prove a pain to those pursuing largemouth bass, a south Jersey fave that inhabits, save for waters deep in Barrens, the same waters as pickerel. One one common denominator is weeds. As such, hardware meant for bass is oftentimes set upon by chainsides and, in the case of plastic worms and creature baits, is pretty mush masticated beyond repair. (The one exception to this are the Z-Man baits, with the proprietary and nearly indestructible ElaZtech material, but that's a subject for another blog.)
Perhaps the most exciting is when utilizing surface plugs, poppers or frogs when seeking this psycho predator. Unlike a bass, which inhales a surface offering, the take resembling a toilet being flushed, the pickerel will launch itself through the surface as if shot from a submarine. Oh yeah, the visual is electrifying.
Opines south Jersey-based professional bass angler John "Big Country" Hagaman, "Pickerel are fun to catch, especially in the early spring. They hit hard, fight hard and, in  some waters like the upper Mullica River and ponds and lakes outside the Pine Barrens, they can get pretty sizable."
The long held world record (since broken) weighed 9-lbs. 3-oz. and was caught in 1957 from Lower Aetna Lake.
Big Country isn't kidding, as he's whipped many a chain in the 3-6 pound class. Sure, the pickerel deep in the Barrens especially, owing to the paucity of prey, don't get much beyond a foot long, the exception being in the old cranberry bogs where fish in the 15-20 inch class, some a bit longer, are not uncommon.
In addition to the Mullica River (Crowley's Landing and upriver), some top pickerel waters include Lake Lenape, Mary Elmer Lake, Propertown Lake, Tuckahoe Lake, Cooper River Park Lake, Union Lake, the Stafford Forge WMA ponds, Batsto Lake, Alloways Lake, the upper Tuckahoe River, East Creek Lake, Pickle Factory Pond, and Dennisville Lake, among many, many more.
LOOK: 30 fascinating facts about sleep in the animal kingdom
Check out these 50 fascinating facts about dogs: