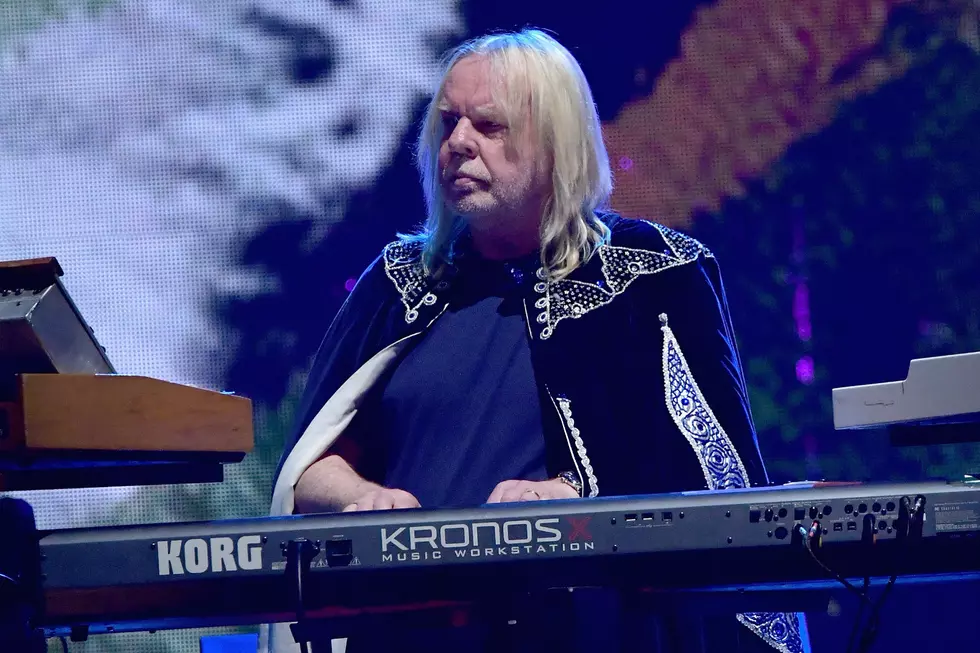 Rick Wakeman Says Yes Name 'Should Have Been Retired'
Mike Coppola, Getty Images
If Rick Wakeman had his way, the Yes band name would no longer be in use.
The keyboardist expressed disappointment that groups still use the Yes moniker following the 2015 death of bassist and founder Chris Squire. "I think when Chris passed away, the name should have been retired and put on a shelf," Wakeman explained in a conversation with Rolling Stone.
Guitarist Steve Howe continues to use the band's name, while other former band members -- including Wakeman -- tour under the title of Yes Featuring ARW. In the interview, Wakeman was critical of both.
"Steve can carry on playing Yes music same as we did," he noted. "We were just as guilty calling it Yes Featuring ARW, which I objected to vehemently. There's no reason we can't go out and play the music, but I really feel that the name should have been retired. I think it was disrespectful to Chris. There were all sorts of stories going around that 'Oh, Chris wanted it to continue.' I know for a fact people that spoke to Chris and that isn't true."
Squire was essential in recruiting Wakeman to join Yes back in 1971, explaining that the band wanted to go down a "keyboard-orchestral route." "We think you'd be the right fit for the job," Wakeman recalled Squire telling him during an early morning phone call.
A long relationship would follow, with the keyboardist quitting and rejoining Yes several times over the ensuing four-plus decades.
"I thought we should have been in long ago because there's a few bands that have since come in very late and I think, personally, it's too late, especially when an important member of the band has passed away," he said. "You look at Chris with Yes and Jon Lord with Deep Purple and you think, 'These guys deserved to be here. They deserved to receive that accolade, especially since many are founding members of those bands.' That was the only slight disappointment, but I was thrilled that the band got in."
Though the surviving members of Yes reunited to perform at the Hall of Fame induction, Wakeman can't envision a full-fledged reunion. "The Hall of Fame was great and it was wonderful to see Alan [White] and Steve, but what would be achieved by everyone getting together and trying to do a reunion?" the keyboardist opined, adding that there was "more chance of Donald Trump getting divorced and marrying Hillary Clinton" than a Yes reunion.
As for the band name, Wakeman admitted he has "quite moralistic views" on the subject. "When Chris died, he was the only founding member still left in the band," he noted. "He's the only guy that had been in every incarnation of Yes, through thick and thin. I felt with so many different band members in and out that when Chris passed away, the decent thing to do would be to say, 'Okay, we're putting the name Yes on the shelf. That's it.'
"The whole Yes thing is a mess since Chris died," the keyboardist admitted. "It's a total and utter mess for the fans and the people because nobody knows what the hell is going on. Nobody knows who is in what, who is doing what. It's just one hilarious mess. It would make a great cartoon series."
Yes Lineup Changes: A Complete Guide