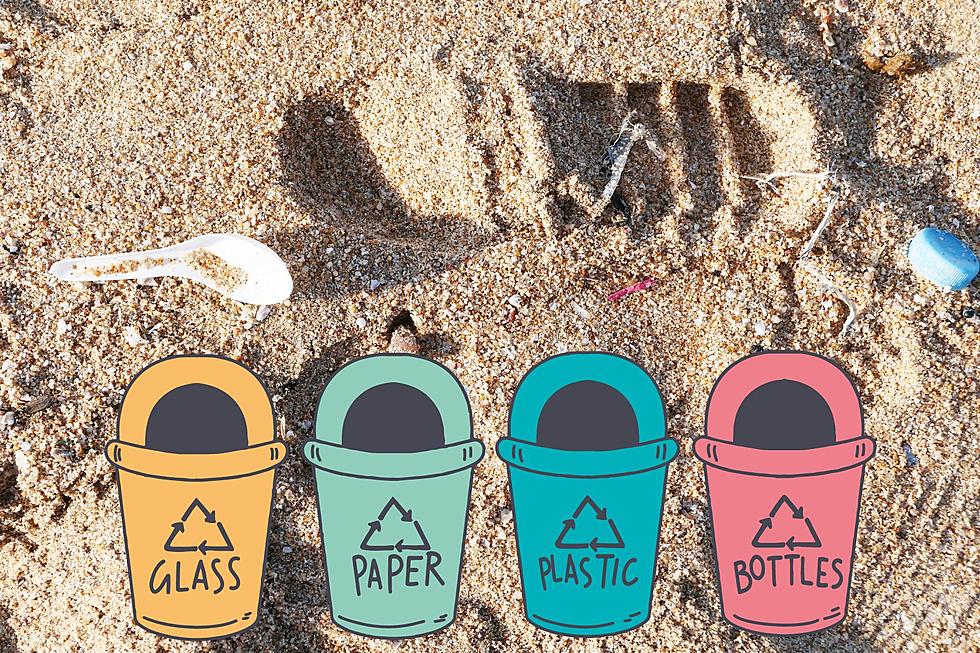 Roof shingles, underwear, bottle of pee among weird items collected from NJ beaches
Canva
🌊 Plastic is still the king of beach debris
🌊 Volunteers found fewer straws and bags compared to 2021
🌊 Hundreds of items make the "Roster of the Ridiculous"
---
For the first time since 2007, plastic shopping bags were not among the most commonly found debris on New Jersey's beaches during annual cleanup events run by Clean Ocean Action.
The Long Branch-based nonprofit hopes that has something to do with New Jersey's recent prohibition on single-use plastic bags at retail establishments.
In total, more than 8,000 volunteers collected 376,969 items from the sand over two Beach Sweeps events in 2022, Clean Ocean Action announced on Wednesday, as it prepares for the first Beach Sweeps event of 2023 on April 1.
"Straws, plastic shopping bags, and foam takeout containers have all decreased over 35% since 2021," said Kira Cruz, debris free sea coordinator for COA.
All of those items were targeted by New Jersey's Single Use Waste Reduction Act — single-use plastic bags (and single-use paper bags at larger retailers) and Styrofoam containers are banned, and a plastic straw is only available to customers upon request.
But plastic still represented nearly three quarters of the debris gathered by volunteers in 2022. Foam plastic accounted for another 9% of the collected items.
"Plastic pieces" came in as the most commonly collected item in 2022, followed by plastic bottle caps/lids, which was No. 1 last year.
Food and candy wrappers/bags were the third most commonly collected type of debris. That's been in the No. 3 spot since 2015.
For the first time in more than 10 years, plastic cap rings joined COA's Dirty Dozen list.
"While it's great we're out there cleaning up the beaches and making waterways cleaner and safer, we're also collecting much-needed data about the evidence of pollution," said Kari Martin, advocacy campaign manager for the organization.
Beach Sweeps statistics were used to support the need for New Jersey's single-use bag ban, Martin said. The data were also used to push for a law signed by Gov. Phil Murphy in January 2022 that requires manufacturers to meet minimum recycled content standards for certain products. The standards will take effect in January 2024.
Seventy-six beaches will handle volunteers for the first 2023 cleanup hosted by Clean Ocean Action. The group is looking for more volunteers to hit the beaches on April 1, starting at 9 a.m., rain or shine. There's another sweep scheduled for Oct. 21.
Beach Sweeps volunteers not only collect trash and hand it in — they keep track of every item they grab.
The 2022 "Roster of the Ridiculous" includes hundreds of items one wouldn't expect to see left behind on any beach, such as bike handlebars, roof shingles, and a three-foot stuffed teddy bear. See page 5 of this report for the full list.
Dino Flammia is a reporter for New Jersey 101.5. You can reach him at dino.flammia@townsquaremedia.com
Click here to contact an editor about feedback or a correction for this story.
LOOK: Food and Personal Care Shortages We Could See In 2023
Learn about the 13 potential shortages that could impact stores in 2023, from produce and meat to snacks and beverages.
Weird things NJ taxes - and some they don't
In general, New Jersey assesses a 6.625% Sales Tax on sales of most tangible personal property, specified digital products, and certain services unless specifically exempt under New Jersey law.
However, the way the sales tax is applied in New Jersey sometimes just doesn't make sense.
New Jersey puts out an itemized list for retailers that spells out what is, and what is not, taxed.
Perhaps because this is New Jersey, there are some bizarre and seemingly contradictory listings.
LOOK: Food and Personal Care Shortages We Could See In 2023
Learn about the 13 potential shortages that could impact stores in 2023, from produce and meat to snacks and beverages.