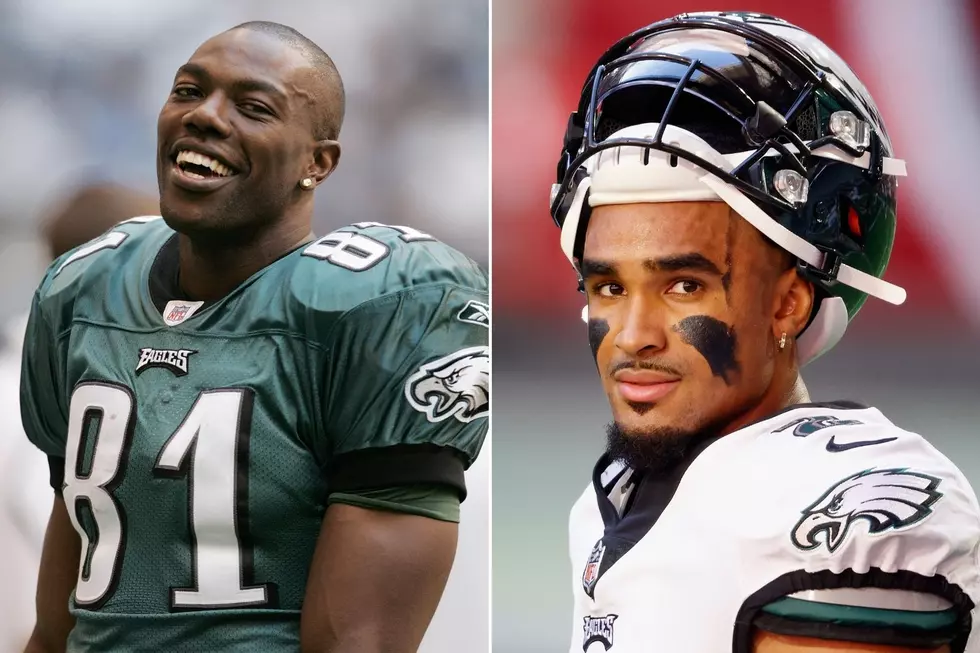 Terrell Owens Makes Prediction About 2021 Eagles and Jalen Hurts
*Terrell Owens: (Photo by Ronald Martinez/Getty Images) *Jalen Hurts; (Photo by Christian Petersen/Getty Images)
While the Eagles new Head Coach Nick Sirianni will not formally name Jalen Hurts the team's starting Quarterback for the 2021 season, all signs are pointing to him has a successor the the vacated title after the trade of Carson Wentz.  The Eagles fan base seems to be divided on his potential to be a good starting Quarterback with each side of the argument scrambling for statistics and experts who support their side of the argument.  But now a former Eagles Wide Receiver has weighed in to the subject while making a bold prediction.
Two months ago, we heard from Pro Football Hall of Famer Terrell Owens about his opinion on where Donovan McNabb ranks about the best Quarterbacks he played with; Now the unfiltered Five-time All-Pro Receiver spoke to his good buddy Chad Johnson about the Eagles, the Cowboys, the NFC East, and Jalen Hurts:
CHAD: Will the Cowboys make the playoffs? They've got all that firepower on offense, why wouldn't they?

 

TO: I say yes

 

CHAD: Will they win the NFC East?

 

TO: No

 

CHAD: What? They don't have any competition.

 

TO: The Eagles, they've got Jalen Hurts. He's always going to put them in contention.

 

CHAD: Wait a minute, the new coach just said Jalen Hurts has to compete for the starting job.  Do they have faith in him?

 

TO: I have faith in him; He's a competitor, I know what he's made of.
From 1984 to 2019, 14 percent of teams that finished in last place the previous year went on to win their division the next season in the NFL and a total of 49 teams went from cellar dwellers to reaching the NFL Postseason in just 12 months.  The Eagles organization has done it twice in the last ten years, so it's not a totally crazy prediction by Terrell Owens.  But his faith on the young Quarterback seems to follow a pattern of a growing chorus of voices that support the 2019 Heisman Trophy Runner Up.
Former Eagles Defensive Back Jalen Mills spoke highly of Jalen Hurts also back in February before the New England Patriots gave him a strong contract to lure him away from Philadelphia:
You got a guy like (Jalen) Hurts who is a leader, a guy who has won at Alabama, he won at Oklahoma, and then he came in and he had a really, really good rookie season even though he started late in the season...
These are just some of the examples of guys who played in the NFL who speak highly of Jalen Hurts while there are others with high praise for the soon to be 23 Years Old Quarterback too.
Some of the Jalen Hurts detractor typically point to his 52% Completion Percentage as a huge flaw in him as an NFL Quarterback; but pointing to that stat is flawed in itself. Go back to the Packers game and you will see that three of Hurts seven incompletions were throwaways while four of his 13 incompletions versus the Saints were also throwaways. If you remove those seven passes from the stat line, Hurts real completion percentage combined in the Saints and Packers games was 66.7% (22 completed passes on 33 Pass Attempts).
So maybe Terrell Owens is "Speaking Truth to Power" in a world of Jalen Hurts doubters.  The lack of faith by some Eagles fans and NFL experts in the man expected to by the Eagles 2021 Starting Quarterback feels forced at times, especially since some of those same people showered love on Quarterbacks who never lived up to expectations.  I prefer a Glass-Half-Full perspective and when everyone is saying Jalen Hurts has elite intangibles, great leadership qualities, and is a powerhouse athlete, I'm going to "have faith" in the young Quarterback.
KEEP READING: Eagles Quarterbacks With the Most Wins Since 1980
The Best Irish Bars in South Jersey