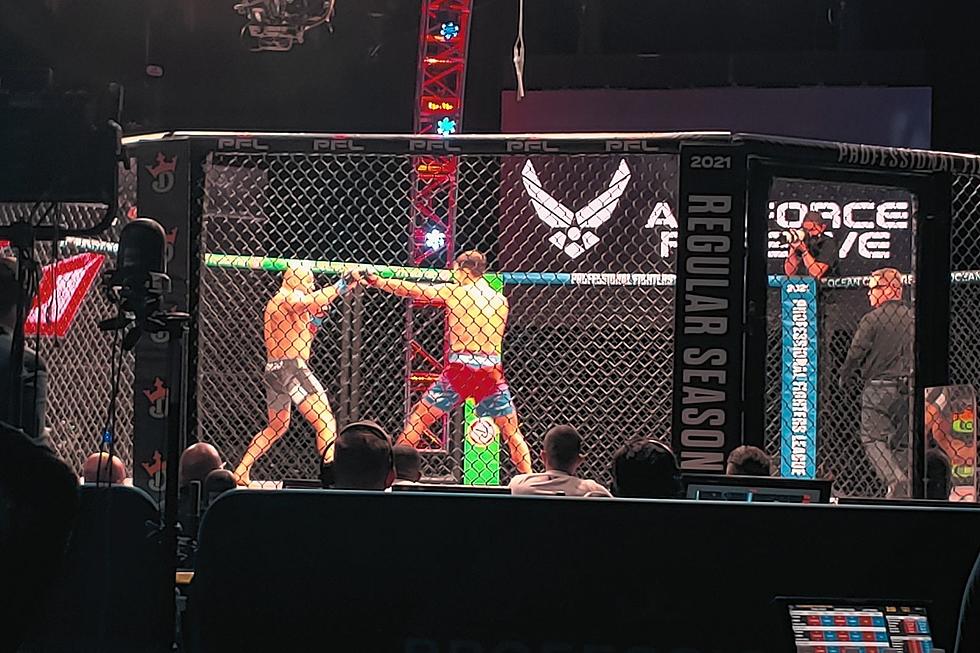 Atlantic City and PFL at Ocean Resort are a Perfect Match
Photo by Josh Hennig for Townsquare Media - Location: Ovation Hall in Ocean Resort Atlantic City
Atlantic City has been the host of numerous big time Boxing events over the last 40 plus years from Mike Tyson's Heavyweight Title defenses in the 1980's to Bernard Hopkins' Middleweight Title Defenses in the 1990's and no one can forget the Arturo Gatti versus Mickey Ward Trilogy fights of the early 2000's.
But Boxing isn't the only fighting happening in the city, as Mixed Martial Arts has a deep history also at South Jersey's most famous boardwalk. Atlantic City has hosted Nine UFC fight cards, the first back in 2000 at UFC 28 when MMA Legend Randy Couture won his second UFC Championship belt. Since then, almost every property in the city has hosted numerous MMA Organizations from Bellator MMA at Caesars Resort to Cage Fury Fighting Championship at Hard Rock Casino to UFC events at Boardwalk hall and now the Professional Fighters League at Ocean Resort.
PFL is the first MMA organization to combined the familiar format of a Regular Season and Playoffs to crown a Champion we see with other Professional Sports with the classic MMA style Tournament. Rooted in the Traditional Martial Art Tournaments for disciplines such as Karate and Judo, the PFL is bringing to the modern age the style of MMA Tournament that made organizations like the UFC famous in the 1990s.
The 2021 PFL MMA Regular season marks the third time the organization has hosted Regular Season events at Ocean Resort in Atlantic City. This Regular Season is different because of the organization started up their Regular Season in the waning months of the COVID-19 Pandemic. As a result, Ovation Hall has been converted into a Made-For-TV Broadcast studio with the MMA Cage in the center of everything.
A member of that PFL Broadcast team on ESPN+ and ESPN 2 is Six-time UFC Champion and MMA Legend Randy Couture; 21 years after he was apart of the Main Event at UFC 28 in Atlantic City, he is back in the town and told me on Thursday Night how much he enjoys coming back to this town:
"I have very found memories here (in Atlantic City): Obviously I fought Pedro Rizzo here (at UFC 31) and I also fought Kevin Randleman here (at UFC 28). Those were two huge fights both for me and my career. I've always enjoyed coming here; The first time I ever saw my face on a billboard was driving out here to Atlantic City. It's a remarkable place, a great fight town, and a fun place to be."
Couture still holds the record the record as the oldest athlete to win a UFC Championship (43 years old) and Defend the MMA Championship Belt (44). Now 10 years after his last MMA Fight, Couture is enjoying his time working with the PFL and being a part of the Broadcast Crew for the MMA Fights airing on ESPN+ and ESPN 2:
"I love this format, it's a Meritocracy which I like a lot. It doesn't if you want to Talk Smack or not, it's not going to get you advanced (to the Playoffs), it's not going get you anywhere. You got to go in that cage and score points, I love that. It's been a blast to be a part of this organization."
On Thursday Night I also spent time talking with PFL Vice President Loren Mack, a man with a visible passion for the sport of MMA and also loves the town of Atlantic City with everything it has to offer as a Fight Town along with being a destination for visitors. I asked Mack if the Bubble Environment at Ocean Resort in Atlantic City has met or exceeded the PFL's expectations heading into the start of the 2021 Regular Season back in April to now:
"It has exceeded our expectations because we knew that ocean resort was a world class property and Atlantic City has historically been a great fight city. The safety of our fighters and making sure we got the protocols right was always our priority. So having the 2021 PFL Regular Season in this (Bubble Environment) and seeing how our fans have embraced everything we have done, it has been a great experience for us."
Back in April of this year, PFL MMA CEO Peter Murray told me on GameNight on 973 ESPN (Monday-Fridays at 6pm) that the PFL is committed to Atlantic City beyond the 2021 Regular Season:
"We are committed (to Atlantic City) for the 2021 Regular Season - We will be taking our Playoffs to another location for a mini-residency but we will be (coming back) to Atlantic City certainly next year and more events to come."'
Thursday Night's PFL 5 Main Card that aired on ESPN 2 showcased again why the Professional Fighters League is definitively the number two MMA Organization behind the UFC while also displaying to the world what Atlantic City can do when given the opportunity to put on a big show.  All four fights had major ramifications for the PFL Postseason and the matchups delivered non-stop actions for everyone watching.  In fact, the controversial Split Decision victory by former UFC Veteran Gleison Tibau over former Bellator MMA Champion Rory Macdonald sent social media into an uproar that lasted into the early morning hours of Friday.  Plus, McDonald and PFL President Ray Sefo were not shy about speaking out about the judges, only fueling the social media firestorm.
Everyone in the Atlantic City and South Jersey area suffered as much, if not more, than anyone else in the Northeast when the COVID-19 Pandemic shutdown the world and practically cancelled the Summer Season at the Jersey Shore that so many local businesses depend on the flood of visitors that typically travel to the area every year.  What audiences saw on ESPN+ and ESPN 2 on Thursday Night showed the world that Atlantic City is still standing with people working at a big fight event.  For myself, being inside Ovation Hall at Ocean Resort Atlantic City reaffirmed my beliefs that the sport of MMA belongs in Atlantic City and the PFL is the right organization to bring those exciting fights back to town.  I can't wait to see the 2022 PFL Regular Season when we anticipate to see full capacity fans return to the arena to see these great fights.  But until then, the final event of the 2021 Regular Season is PFL 6 coming up June 25th which you can watch on ESPN+ and ESPN 2.
Inside the PFL MMA Bubble at Ocean Resort Casino, Atlantic City: June 10, 2021