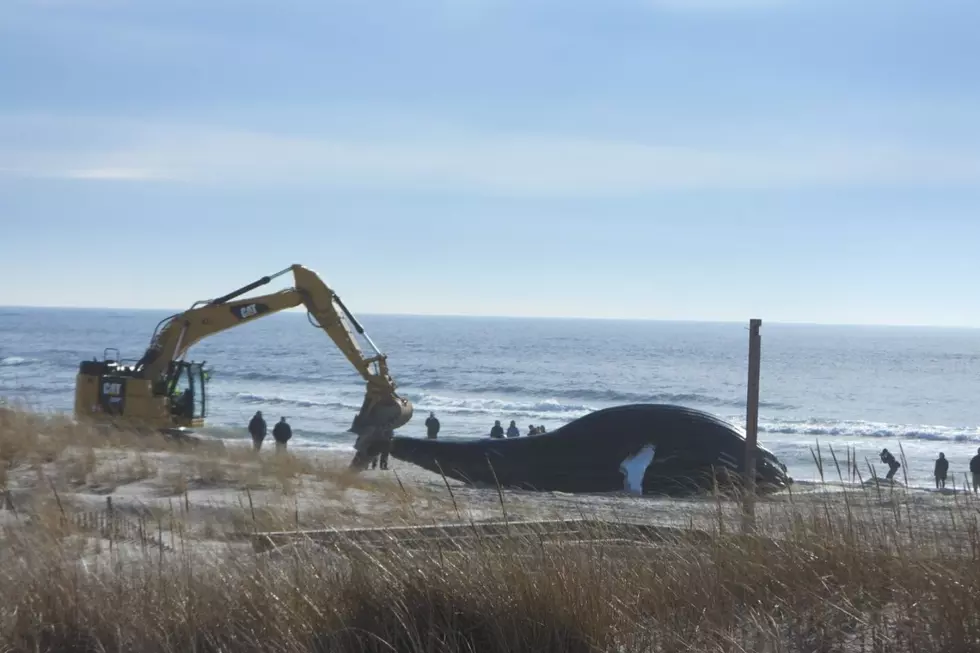 More evidence clean-energy work not to blame for dead whales in NJ and NY
A crane moves a whale on Lido Beach in Long Island 1/31/23 (Atlantic Marine Conservation Society)
The whale that washed up on Long Island's Lido Beach was likely killed by a vessel, according to the NOAA's Greater Atlantic Regional Fisheries Office.
Spokeswoman Allison Ferreira said that the whale, which NOAA had been tracking for 40 years and named Luna, was likely dead for several days before washing up on a beach just east of Queens Monday morning.
A team on Tuesday took samples of blubber, tissues, and organs to help determine a cause of death, which will not be known for many weeks, according to Ferreira.
"Preliminary findings indicate that a vessel strike is the likely cause of death. However, we will know more once the results of the samples become available. The animal was found to be in good body condition and presented evidence that it had been actively eating," Ferreira said in a statement.
Luna, the eighth whale to wash up on a New Jersey or New York beach in December was 41 feet long and weighed 29,000 pounds at the time of his death.
No evidence of wind activity connection
Many environmental groups have linked the deaths to activity surrounding the development of wind energy off the New Jersey coast. The Atlantic Marine Conservation Society, which is part of the team that performed the necropsy on Luna, is not convinced.
"There has been a lot of speculation about whether these whale deaths are linked to wind energy development, but at this point, we have no evidence that would attribute any whale mortalities to offshore wind activities, such as sonar or seismic work," the group said in a statement on its Facebook page. "We will continue to gather data and go where the science leads us."
The whale was buried on the beach Tuesday after nearly a dozen organizations completed their work for the necropsy.
Calls for a pause
U.S. Rep. Chris Smith, R-N.J. 4th District, added his name to the list of 12 Jersey Shore mayors who asked President Joe Biden to pause offshore wind projects.
"The New Jersey mayors, local environmental leaders, and members of the fishing community all share a deep concern that four major offshore wind projects have been approved concurrently within the span of two years," Smith said. "That these projects are being built at such a large scale and in such a short amount of time casts doubt over whether there was sufficient time to properly evaluate these projects' impact on marine ecosystems, fisheries, shipping channels, tourism, and other important factors that may be affected."
Ferreira said there have been no additional sightings of a whale spotted Saturday night 12 miles east of Long Beach Island and no connection made to Luna.
Dan Alexander is a reporter for New Jersey 101.5. You can reach him at dan.alexander@townsquaremedia.com
Click here to contact an editor about feedback or a correction for this story.
OMG! Cutest pets in New Jersey!
New Jersey Goodwill stores will not accept these items
13 Musicians Who've Served in the US Military