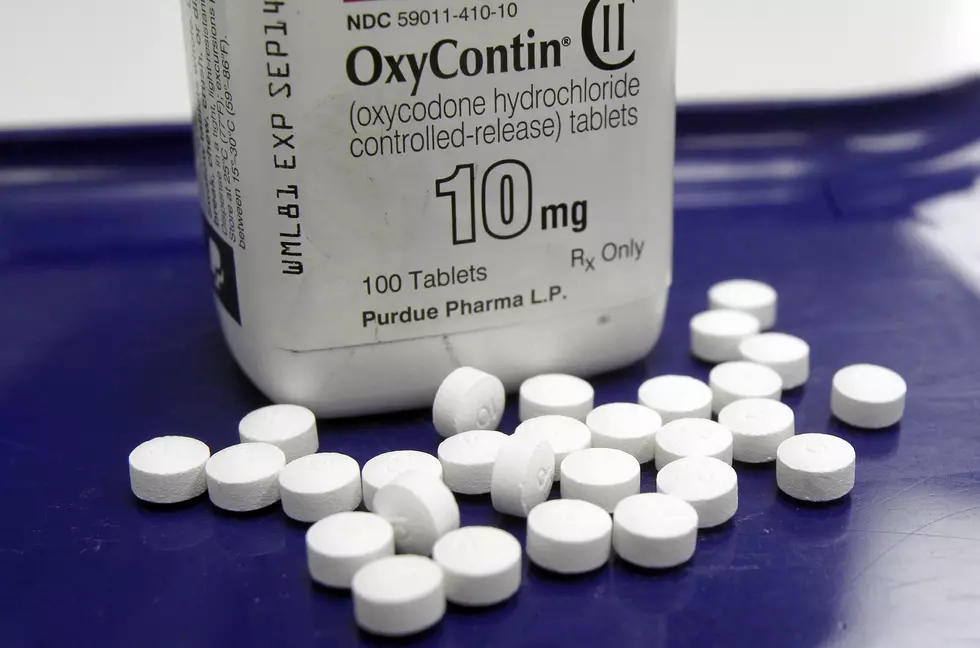 New report finds a NJ law to limit opioid prescription meds has not worked
AP Photo/Toby Talbot, File
⚫ Is the NJ law that limits initial opioid pain prescriptions to 5 days a waste of time?
⚫ A new analysis finds the regulation has not resulted in a decrease in opioid pain meds being prescribed
⚫ Drug overdose deaths in NJ did drop slightly last year
---
Back in 2017 when opioid overdose deaths were rising in New Jersey, the Legislature passed a measure signed into law by then-Gov. Chris Christie to limit initial opioid prescriptions for acute pain to five days.
A just-completed analysis of that effort, which was focused on reducing the total number of opioid prescriptions being written and decreasing the number of opioid medications being dispensed, indicates it was not successful.
Peter Treitler, a research project manager at the Rutgers Institute for Health, Health Care Policy and Aging Research, said after studying years of Medicaid records, "we didn't find that the policy further decreased opioid prescribing overall, which had already been declining before the policy went into effect."
In 2021 there were 3,124 drug overdose deaths in the Garden State, and last year the total was 2,891.
Already a decreasing trend
There was already a decreasing trend in getting new opioid prescriptions, which flattened after the policy.
"It kind of raises the question of whether the policy was necessary in order to curb the further prescribing, or if that had already been achieved through some of the other efforts."
Treitler said he does not consider the law to be a complete failure, because it did reduce the proportion of prescriptions for opioid pain medication that were longer than 5 days, which reduced the chances of individuals having spare medication in their homes that could then wind up being abused, sold or stolen.
Unintended consequences of the law
He said researchers in other states have found having an initial five-day opioid medication limit law "sometimes causes patients to be taken off opioids prematurely, which has all kinds of consequences. They've also discouraged prescribers from prescribing opioids to patients who legitimately need them."
While fatal overdoses from opioids and related drugs, particularly fentanyl, have rapidly become one of the nation's leading causes of death, medications such as OxyContin and Vicodin are often the most effective treatment for serious pain arising from injury and painful diseases like cancer.
"New Jersey has been a leader among U.S. states in combatting opioid misuse. Many policies have worked, and new policies designed to expand access to very effective medical treatments promise to be game-changers," Steven Crystal, the director of the Rutgers Center for Health Services Research, said.
"This policy's apparent failure to achieve its goals illustrates the extreme difficulty of solving healthcare problems by dictating physician behavior."
The Rutgers team studied the regulation's impact by analyzing six years of anonymous New Jersey Medicaid claims data for patients aged 18–64 who weren't eligible for Medicare.
The analysis found total new prescriptions fell at a monthly rate of 0.76 per 10,000 after the five-day rule took effect, but they had been declining at a monthly rate of 1.62 per 10,000 before policy implementation.
Recent data indicates opioid overdose deaths in New Jersey are starting to go down.
David Matthau is a reporter for New Jersey 101.5. You can reach him at david.matthau@townsquaremedia.com
Click here to contact an editor about feedback or a correction for this story.
Even more cutest pets in New Jersey — 2023
We asked for the cutest pets — and we got 'em! Here are some more of all the furry, scaly, feathery and wrinkly friends in the Garden State.
We've announced our winner here.
Every NJ celebrity with a star on the Hollywood Walk of Fame
50 Most Popular Chain Restaurants in America
YouGov investigated the most popular dining brands in the country, and Stacker compiled the list to give readers context on the findings. Read on to look through America's vast and divergent variety of restaurants—maybe you'll even find a favorite or two.