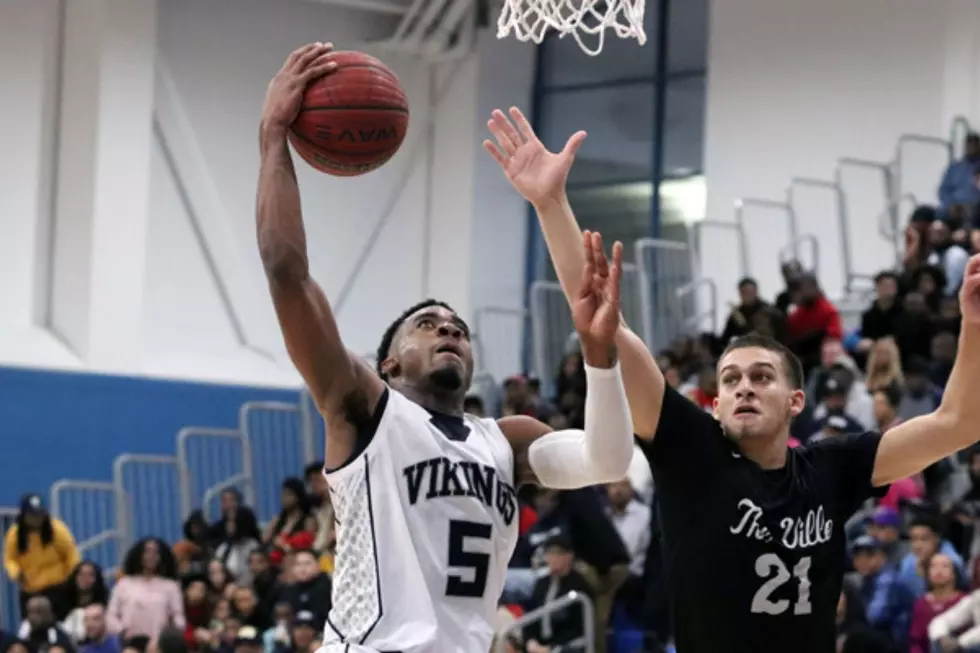 Show Compassion: South Jersey Athletes Had Their Seasons Stolen
*Atlantic City vs Millville: (Photo by Dave O'Sullivan/Glory Days magazine)
As we enter the month of March, we approach a year removed from the beginning of the COVID-19 shutdowns that sent everyone's lives into a tailspin, and changing the sports world on numerous levels. We are slowly starting to see fans return to sporting events, including the city of Philadelphia. But with so much attention given to professional sports, from bubbles to strict protocols for them to play their games, we have forgotten about the amateur ranks.
Last week, I was very disheartened when the news came down that Middle Township High School became the second boys basketball team that day to end their season early due to COVID-19 concerns. Earlier last Wednesday, Atlantic City High School also decided to end the seasons for their boys and girls basketball teams. In a stark contrast, we saw Wildwood High School announce their participation in a local postseason tournament.  Middle Township and Wildwood High Schools are just nine miles away from each other, yet each boys basketball team has had drastically different endings to their seasons.
While everyone has been effected in some way by the pandemic, I feel for these young athletes who are trying to do everything right, and still their athletic careers are being ripped away from them. These young people, who are high school and college athletes, must be full-time students and attend practices daily, while also maintaining a specific level academically so in order to play the games each week. As a former high school athlete myself, I know how difficult it is to balance school work, and athletic commitments, all while finding the time to have a personal and/or family life. Yet these athletes have a wholly unique obstacle to overcome: the uncertainty of COVID-19 protocols.
Because of this pandemic, the high school athletes from our own area have their opportunities to play sports stolen from them. These are experiences they can never get back.
While many recent sports headlines have focused on the professional sports happenings and high profile college sports programs, there are so many young athletes who may never play pro sports, and their lives have been turned upside down by things that are completely out of their control.
Despite the arrival of now three vaccines, there's still so much that we have no clear answers to regarding the COVID-19 pandemic. Here are some questions we still have not received answers to that have happened in the sports world:
*Toronto Maple Leafs Superstar Forward Austin Matthews tested positive for COVID-19 in June, but his teammate who was working out and living with him for weeks, Goaltender Frederik Andersen, never tested positive or had symptoms.
*After Notre Dame Football's upset victory over Clemson back in November, the students in attendance stormed the field and there was blatant violations of numerous COVID-19 distancing protocols. Despite the celebrating and mingling of student-athletes with their classmates, there were no positive tests among the athletes or the students in attendance after this incident seen on national prime time TV.
*University of Michigan had not one, but TWO COVID-19 outbreaks among their athletic programs in January and December, causing a domino effect of numerous sporting postponements and cancellations including the famous Michigan-Ohio State rivalry game. The Big Ten had to change their Championship game requirements in order to allow the Ohio State Football team to play in the Title Game to lock up their place in the college football playoffs Final Four.
*The game between University of Miami and North Carolina was forced to be postponed after players from the Men's Basketball team were discovered partying maskless with other students around UNC campus after their win over rival Duke. Yet, no one seem with the athletes or the athletes themselves, tested positive for the COVID-19 virus.
Those are just four situations that stand out in my mind of situations where we still don't have a clear answers about how or why these events played out the way they did. How are some people have COVID-19 issues but not others?
Here's more data to consider:
*As of December 2020, CDC reported that 10.2% of all positive tests are children and adolescents age 18 years and younger.
*According to recent studies, there is a direct correlation between Vitamin D deficiency and COVID-19 positive tests.
But none of that answers why Middle Township and Atlantic City High School have had to shutdown their basketball seasons while Wildwood High School and Saint Augustine Prep can move forward with playing their games.  These young men and women are losing huge parts of their lives; lifelong memories of athletics, the camaraderie of their teammates, building relationships and learning from each other - they are losing it all for reasons that none of us can explain.
It's easy to blame the "Boogeyman" that is COVID-19, or point fingers at people like politicians and people in positions of authority, but instead I ask everyone to show some empathy toward these young people. If you're in a position to help someone who has been victimized by this pandemic whether directly or indirectly on any level, please show some compassion for them, because there are senior athletes like Middle Township's Jeremiah Camacho and Atlantic City's Nassan Blakeley and Cornysha Davis who cannot play basketball anymore, and their lives are negatively impacted by things out of their control.
South Jersey Athletes Who Played/Coached in NBA and MLB