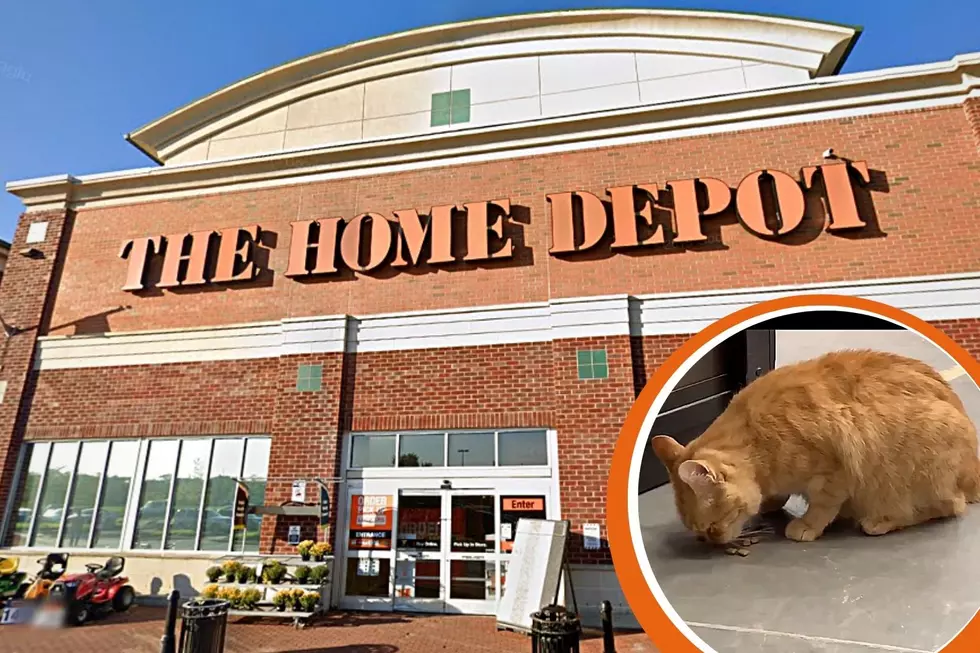 Meet Oscar, The Famous "Home Depot Cat" From Cherry Hill, NJ
Google Street View/Twitter via @KeelyFox29/Canva
No doubt, you've entered your nearest Home Depot location and have noticed birds flying around once or twice, right?
Notice any other animals?
The workers employed at the Home Depot in Cherry Hill, Camden County, found an orange cat the wandered into the store and made himself right at home. Luckily, that location is filled with some pretty big-hearted people, because now, Oscar's a bit of a celebrity around there. You guessed it: Oscar now lives at that Home Depot FULL TIME. He's a resident!
Instead of going to the Home Depot to improve his home like the rest of us, Oscar decided to take up residence right there. Not that the staff minds, of course.
Oscar's become so famous that he even has his own social media pages. He's got a Facebook, Twitter, and Instagram that he's active on quite a bit. Most recently, Oscar has given his seal of approval on all the work his location did to make sure all the holiday décor was out in time. As you can see, this little guy's not unlike the rest of us who are getting lost in the spirit of Christmas.
first made his appearance
Good Day Philadelphia!
We'll, no doubt, see more of what Oscar's up to throughout the holiday season. You can follow along with Oscar on Facebook HERE.
11 SJ Towns with Perfect Backdrops for Hallmark Channel Christmas Movies
The Hallmark Channel needs look no further than these quaint South Jersey towns for inspiration for a Christmas movie.
Gallery Credit: Heather DeLuca
A list of NJ malls where you can get photos with Santa for the 2023 holiday season
The annual New Jersey tradition is back for the 2023 holiday season, along with pet photos, special events, and exclusive sensory sessions.
More details and locations will be added as the holiday season progresses, so please check back often for updates. Malls are listed in alphabetical order.
Gallery Credit: Mike Brant
50 Amazing New Jersey Kids Who Are Absolutely Adoptable
Here are 50 awesome New Jersey kids who are absolutely adaptable!
Gallery Credit: Eddie Davis